Legacy!: Serena Williams Details How Her 5-Year-Old Daughter Olympia Assists With Her Fashion Brand
The entrepreneur is raising a mini boss!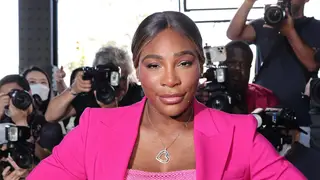 Serena Williams is making her fashion brand a priority after announcing her retirement from tennis. The proud mom is doing so with help from her five-year-old daughter, Olympia!
During an IMG and Spring Studios' "Glam Slam" event, the tennis legend opened up about her design process while showing off the new S by Serena line.
"Sometimes I will say 'Olympia, which color do you like better?' or 'Which dress do you like better?' and she'll say 'That one,'" Serena told the crowd, according to PageSix. "And I'm not sure if she's just pointing at one because she wants to play games after."
The entrepreneur has been making the transition from the tennis world to fashion for quite some time. The S by Serena brand was launched in 2018 followed by a jewelry line named after the star in 2019.
At the event this week, Serena explained that she's excited about the possibilities when it comes to fashion.
"I am really excited to explore that … and willing to dive deep," she explained. "I have been in fashion for so long and gone to school for it. Most of my life has been so dedicated to tennis, and I have never been able to fully focus on things that I have such a passion for. These collections are about to get really insane."
Serena also has a venture capital firm called Serena Ventures, which focuses on the financial investments sector.
Her website details all the various avenues she's ventured into, explaining, "At the end of the day, family is Serena's #1 priority. As the youngest of five girls, she comes from a loving and supportive family. Now, her daughter Olympia is the center of her world and part of her everyday - from business meetings to Disney dance parties."
On Monday, the busy mom wore a custom Balenciaga gown as she floated down the catwalk for the Vogue World runway show during New York Fashion Week. Check out the moment in the story below!