Tina Turner's Daughter-In-Law Claims Late Singer Feared Son Ronnie Would Follow in Father's Abusive Footsteps
This is the French singer's first interview since the rock and roll legend's passing on May 24.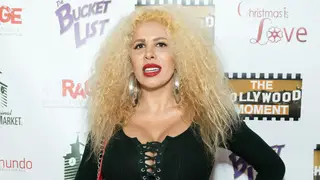 In a recent revelation, Tina Turner's daughter-in-law says the late rock and roll legend expressed concerns that her son Ronnie Turner–who passed away last year–would "turn out like" his father and musician Ike Turner.
In an interview with the Daily Mail, Ronnie's widow and French singer Afida Turner claimed the "What's Love Got to Do With It" singer "sometimes told me, 'You don't want to stay with him. He is going to be like his father.'" The "French Kiss" singer noted that "It is pretty rare for a mother to say that."
It had been widely known and documented, as read in her 1986 memoir I, Tina, that Ike was highly abusive towards the Rock N' Roll Hall of Famer. The 8-time Grammy Award winner wrote that her ex-husband once gave her third-degree burns on her face and even broke her jaw. She also stated that Ike would use her nose "as a punching bag."
Afida told the outlet that Ronnie did show similarities to his father earlier in their relationship, stating that "At first, he was kind of like his father, but after that, he was going very well."
The 46-year-old recalled making it clear that she would leave if the alleged behavior continued. "He made a very big effort to keep me," she revealed before adding," In the beginning, it was very hard because I was not willing to stay with him."
Afida and Ronnie tied the knot in 2007 and remained married until the actor's death in December following a battle with colon cancer. He was 62. His passing came five years after his older brother Craig took his own life in 2018 at the age of 59.
As previously reported, the music community was stunned to hear of Tina's passing on Wednesday, (May 24). The star died from natural causes, although she had battled various illnesses for over four decades. The Queen of Rock and Roll was 83.