Survey: Most University Presidents Disagree With Supreme Court's Affirmative Action Decision
The high court banned institutions from using race-conscious admissions, forcing schools to find alternatives to achieving diversity.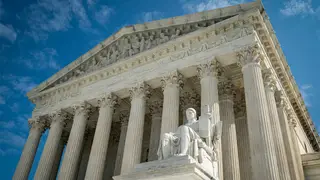 Most college presidents think the U.S. Supreme Court made a mistake when it banned schools from making race-conscious college admissions, according to a new study by Inside Higher Ed and Hanover Research.
Among the 136 college presidents surveyed, 68 percent disagreed with the high court's decision – with 46 percent strongly disagreeing. Only 17 percent somewhat or strongly agreed with the ruling, and 15 percent were neutral.
In June, the high court's conservative majority overturned decades of precedent, ruling that Harvard and the University of North Carolina violated the Constitution's Equal Protection clause in their admissions policies. The decision impacts private and public institutions nationwide that use race as one of multiple considerations to increase their Black and Latino student population.
Most presidents (59 percent) predicted the ruling would decrease the number of underrepresented minority students admitted to competitive institutions.
At the same time, 86 percent said their institution will maintain its current diversity level, and just 7 percent said the court's decision will force them to change their admissions policies.
Patricia McGuire, president of Trinity Washington University, told Inside Higher Ed that many colleges and universities already didn't use affirmative action to achieve diversity, so there's no need to change.
Institutions that value diversity have found alternatives to race-conscious admissions policies. Wesleyan University President Michael Roth told Inside Higher Ed that his university uses various tools, including outreach to community-based organizations, college access programs and high schools with a high concentration of students from low-income households.
Meanwhile, officials at historically Black colleges and universities have said they anticipate an increase in student applications in response to the ruling.
Dr. George French, president of Clark Atlanta University, said to ABC News that the Supreme Court's ruling was a "disappointment within the HBCU constituency" because the decision to ban race-conscious affirmative action at universities "appears to be intentional in eroding what was an effective remedy for racial disparities in our nation." Still, the HBCU community sees an opportunity, he added.
French called for more resources to help HBCUs build capacity to meet the needs of the anticipated influx of students.
"Not just financial, but programmatic. For example, if you come to an HBCU for one of our traditional disciplines – law, medicine, education – that's one thing. But if you come for thermonuclear science, we don't have that capacity," he said.