Fetty Wap Finally Confirms How Many Children He Has
At least one mystery of the universe is finally solved.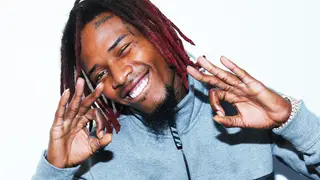 Providing for seven children could present a huge financial burden for some, but for rapper Fetty Wap, it's light work. The 27-year-old took to Instagram clapping back at haters questioning how well he provided for all of his children.
Clearing up the rumors about the number of children he has, Fetty wrote, "Actually, my son is on the way so it'll be 7 at 27 with 22 million."
Although the mothers of his children might not get along with one another, Fetty Wap had nothing but good things to say about them. "All my kids' moms have moved on and living their life. They allow me to be a dad to my kids."
When it came down to how he handled his responsibilities on the financial front, Fetty dished, "I'm fortunate enough to have been smart enough to invest my money so my kids will have money when I'm gone...Understand… I'm not rich. I'm wealthy."
Over the past few months there was tons of questions about how many children the rapper had. Months after it was confirmed that he was expecting a child with Love & Hip Hop Hollywood star Alexis Skyy, the rapper revealed that he was also expecting a baby boy with Lezhae, the mother of one of his daughters.