Kyle Rittenhouse Joins A Long List Of White Gunmen and Police Acquitted or Not Charged Despite Brutality or Killings
The 18-year old claimed self-defense after using a AR-15 to kill two men and wound another.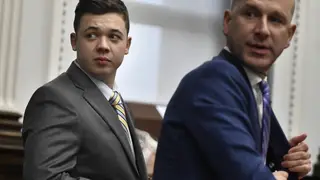 The acquittal of Kyle Rittenhouse outraged many and shocked some who believed he should have been imprisoned for the shooting of two men and the wounding of another during a 2020 police shooting protest. However there is an infamous precedent in the past of white men –– including police –– being found not guilty of killing in circumstances that are directly involved or adjacent to racial incidents.

This list outlines some of those cases and shows that Rittenhouse's trial outcome follows a long line of similar verdicts with similar outrage. Here are just a few instances of individuals who took a life and walked away with no jail time.
George Zimmerman –– July 13, 2013

The neighborhood watch volunteer who followed Trayvon Martin, said he was suspicious of the 17-year-old Miami teen who was in Sanford, Fla., visiting his father. Zimmerman went on trial for shooting Martin after the two wrestled when Zimmerman caught him walking back from a convenience store in February 2012. The jury was unconvinced by prosecutors that Zimmerman was the one who started the conflict that resulted in Martin's killing. Believing that he feared great bodily harm or death, jurors found him not guilty of second-degree murder. The only good thing to come out of the controversial trial was the impetus for the beginning of the Black Lives Matter movement.

Stacey Koontz, Laurence Powell, Timothy Wind, Theodore Briseno –– April 29, 1992

On March 3, 1991, Rodney King, a 25-year-old Black man was driving a vehicle with two other occupants on a Los Angeles freeway, but was pulled over for speeding. A group of arresting officers wound up brutally beating him in a video captured by George Holliday. Because of the repeated playing of the video on news programs, an international outcry went out for the jailing of the police involved.

Koontz, Powell, Wind and Briseno went on trial for the beating, but in a decision that lit a powder keg, the LAPD officers were all acquitted of assault with a deadly weapon and excessive use of force.

A few hours after the verdict, Los Angeles, already on edge over other racial incidents, exploded in social unrest, recorded as among the worst in U.S. history. As much as $1 billion in damage was estimated while 64 people lay dead. King would later die in 20212 from an accidental drowning in the swimming pool in his Rialto, Calif. He was 47-years old.

Daniel Pantaleo –– Dec. 4, 2014

Eric Garner, a 43-year-old Black man, was being detained after police accused him of selling loose cigarettes on New York's Staten Island. In reality, he had just broken up a fight. Frustrated, Garner began to argue with police and that is when Pantaleo tried to handcuff him from behind. As Garner struggled, Pantaleo put him in a chokehold. Garner, who had a history of health problems, gasped "I can't breathe," before losing consciousness. He lay on the ground for several minutes before an ambulance arrived. Hesuffered a heart attack on the way to the hospital, where he was pronounced dead.

Calls went out to prosecute Pantaleo, but he was only stripped of his gun and placed on desk duty. A Richmond County, N.Y., grand jury declined to indict him, preventing any criminal charges. Pantaleo, however, was fired in 2019 over the incident and lost an appeal in March 2021 to get his job back.

Roy Bryant and J.W. Milam –– Sept. 23, 1955

No one could have predicted that the case of two half-brothers in Tallahatchie County, Miss. would eventually catapult America into the Civil Rights movement. The pair were accused of killing Emmitt Till, and the jury took very little time to come back with an acquittal. The all-white, all-male jury in the middle of a state that was steeped in segregationist ideology took all of 67 minutes to find Bryant and Milam not guilty on murder charges.

Till, a 14-year-old Chicago boy who was visiting relatives was accused of whistling at a white woman. Bryant and Milam took Till at gunpoint from the home of his great-uncle, Moses Wright. Till's body was later found in the Tallahatchie River beaten beyond recognition. Despite Wright's testimony and plain evidence of their guilt, Bryant and Milam were set free. In a January 1956 edition of Look magazine, the two men gloatingly admitted to killing Till. In 2017, the woman who accused Till of whistling at her, Carolyn Bryant Donham, recanted.

Sean Carroll, Edward McMellon, Kenneth Boss, Richard Murphy –– Feb. 25, 2000

In the early morning hours of Feb. 4, 1999,  the four New York City police officers were in search of a rape suspect in the Bronx. During their investigation, they detained Amadou Diallo, a 23-year-old immigrant from Guinea, standing in front of his apartment building. According to police reports, he ran into the building and went into his pocket to grab his wallet. Instead, the officers opened fire at him, assuming he was pulling out a gun. The barrage of bullets pierced his body 19 times out of the 41 shots fired.

An investigation determined Diallo was unarmed. The officers were indicted on charges of second-degree murder and reckless endangerment. But a jury of four Black and eight white jurors found them not guilty. As a result of this incident, the NYPD Street Crime Unit was ultimately disbanded two years later.

Darren Wilson –– Nov. 24, 2014

The police shooting death of Michael Brown, an 18-year-old who lived in Ferguson, Mo., brought thousands to the St. Louis suburb to call for the arrest of Wilson. On Aug. 9, 2014, Brown had been suspected of strong-arming a convenience store owner for some merchandise and when Wilson tried to detain him, he said Brown charged toward him. Wilson, who was a Ferguson police officer, felt he had no other choice but to shoot. Eyewitnesses, however, have always said that Brown complied with Wilson's orders and was killed anyway.

The area became a center of social protest, but the demonstrations also gave way to unrest and property damage. Upon investigation, a St. Louis County grand jury declined to charge Wilson. He later resigned from the Ferguson police force. A reinvestigation in July 2020 also determined that Wilson would face no criminal charges.

Timothy Loehmann, Frank Garmback (Dec. 28, 2015)

Security video showing the Cleveland Police Department squad car speeding up to 12-year-old Tamir Rice in a public park and then officers fatally opening fire would seemingly be enough for a conviction. However, despite disputes by experts, Loehmann testimony that he saw the boy reach for his waist was enough to convince a grand jury not to indict either officer. Rice was in the park simply playing with a toy gun when someone reported an individual with a weapon in the park, prompting the police response.

After an investigation of the shooting from the Cuyahoga County Sheriff's Office, a municipal judge found cause to charge both policemen. Prosecutor Timothy McGinty took his report, which included the opinions of outside experts who found the shooting reasonable under the circumstances, to a grand jury which failed to indict Loehmann and Garmback. Loehmann, however, was subsequently fired and Rice's mother Samaria, has campaigned publicly to prevent him from working as a police officer ever again.

Jonathan Mattingly, Brett Hankison, and Myles Cosgrove –– Sept. 23, 2020

The country was already at a fever pitch over the death of George Floyd in Minneapolis when calls for the officers involved in a botched apartment raid in Louisville, Ky., began to surface. Months earlier in March 2020, actions made by those officers resulted in the fatal shooting of Breonna Taylor, a 26-year-old emergency medical technician, who was at home with her boyfriend Kenneth Walker. It was later determined that the police raided the apartment looking for Taylor's ex-boyfriend Jamarcus Glover, who was already in custody.

Activists began to loudly demand police reform and both cases went on to become pivotal points of discussion in the presidential election. Despite the determination that Walker fired at officers in self defense, believing an intruder had broken into the home he shared with Taylor, a state grand jury––some of whom were critical of Kentucky Attorney General Daniel Cameron––only indicted Hankison with a charge of wanton endangerment for bullets from this weapon that went into another apartment. None of the other officers were charged. However, Taylor's family settled with the city of Louisville for $12 million and a promise of police reform.