Michelle Obama Discusses Her Parenting Philosophy And Reveals That Both Her Daughters Have Boyfriends!
"I'm not raising babies; I'm raising real people to be out in the world."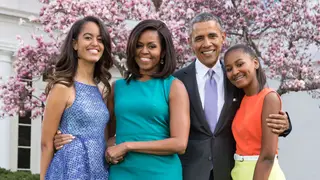 Sasha and Malia Obama both have boyfriends and busy lives! During Tuesday's broadcast of The Ellen DeGeneres Show, Michelle Obama gave an update on her daughters. Naturally, fans can't believe how quickly time has passed—our forever FLOTUS shares the same sentiments.
"They loved the Jonas Brothers. Now they are bringing grown men home," the Becoming author joked about the time when Malia and Sasha visited the talk show in 2008 before Barack Obama became president. "Before it was just, like, pop bands. Now they have boyfriends and real lives."
While Mrs. Obama did not share any further details about her daughters' relationships, it is clear that she is proud of her childrens' accomplishments. "They have grown up right before our very eyes and they're doing well."
When asked about the philosophy that helped her children transition into adulthood after living in the White House, Mrs. Obama explained she followed her mom's mindset: "I'm not raising babies; I'm raising real people to be out in the world."
She added, "I kept that in mind with the girls. They wouldn't always be in that bubble of the White House, so they had to learn how to make their beds. They had to learn how to drive. They had to learn how to be compassionate, independent, responsible people so that they entered the world as responsible, compassionate, capable people. I think they are amazing young women because of that."
They certainly are! Malia followed her parents' footsteps by studying at Harvard while Sasha currently studies at the University of Michigan.
In February 2021, news broke that Malia joined the writers room of Donald Glover's upcoming show on Amazon.
We are so proud of our family!