Check Out the Best Of Ghanaian Fashions From the Villa Grace x Veuve Clicquot Magna Carta Hip Hop Lunch
See how guests showed up and showed out at this exclusive event where the dress code was Boho meets effortless chic.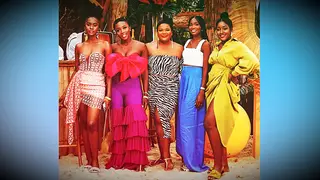 For the past four years, Fred Apaloo, award-winning chef and founder of boutique catering company  Villa Grace, has been inviting some of Ghana's most influential and fashionably connected  people to the renowned Villa Grace x Veuve Clicquot Magna Carta Hip Hop Lunch at The Savannah gardens in Accra.
The name of the event is inspired by Jay Z's iconic album, Magna Carta, and has become an annual celebration of food, fashion, lifestyle, music and fun. "The Magna Carta lunch was birthed through our long standing relationship with Veuve Clicquot, Ghana," said Apaloo in an interview with BET.com in Ghana. 
"When Villa Grace was born in 2015, pop up culture wasn't really popular in Accra, so that became our primary focus. Veuve Clicquot globally is a brand that celebrates lifestyle, so our pop up food service and experiential dining has been a perfect match. ​​My passion lies in bringing people together through food and Veuve Clicquot gives us free creativity to really push barriers from what the norm is in Accra with events that create unique experiences."
Each year, the Villa Grace x Veuve Clicquot Magna Carta Hip Hop Lunch is based on a theme, and this year was no exception. "We took our inspiration from Tulum, a city in Mexico that has been quite popular on the travel radar lately," said Apaloo of the January 4 event. Designed by Tamara Jonah-Goka of Lionheart Events, the decor was a perfect recreation of Tulum's rustic charm, with colorful decorations, cozy furniture, fresh sand flooring and a warm atmosphere that made guests feel like they had been transported to a tropical paradise. The lively hip hop and afrobeats music and delicious food provided a truly unique experience within an exotic setting.
BET.com was on the ground in Accra to witness this year's Villa Grace x Veuve Clicquot Magna Carta Hip Hop Lunch. Here are some of our favorite fashion moments:
The fashion was also heavily inspired by Tulum. Guests wore unique, eye-catching designs mixed with colorful prints, bold jewelry and intricate head pieces. The looks were a mix of African and international designers, providing a vibrant and eclectic atmosphere.
"The Villa Grace Magna Carta event is organically becoming a space where women get to show up and show out, expressing their individuality and essence through style," said Aisha Ayensu, creative director of Christie Brown, a Ghanaian fashion label. "The hits for me were the guests who managed to pull off glam but still in a laid back fashion that felt effortless. The trick was the sandals that some ladies wore, they really gave the outfits an, 'I'm not trying too hard' vibe."
"Every Magna Carta event gives us something new, pushing the limit every year especially through the theme,"  said fashion influencer, Aku Akuffo. 
"For a fashion lover like myself, the excitement begins when Villa Grace announces the event's theme for the year. The second I read Matador Beach on the invite, I thought Tulum, I thought resort wear, but knowing that Magna Carta lunches are usually about making a fashion statement, it's more about high fashion resort wear, as opposed to actual beach wear."
---
Omenaa Boakye is a fashion, beauty, and pop-culture writer based in New York City with ties to London and Ghana.