Congressional Black Caucus Demands Justice Department Response Around Police Brutality
The representatives want the agency to comment on a presidential executive order on police accountability.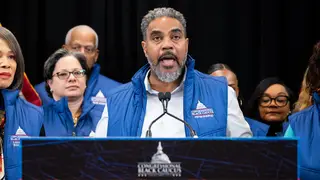 On Thursday, members of the Congressional Black Caucus said that they had written to the Department of Justice, requesting information about the progress of President Joe Biden's executive order on police accountability, which took effect in 2022.
The executive order, Advancing Effective, Accountable Policing and Criminal Justice Practices to Enhance Public Trust and Public Safety, called for creating guidelines and practices to deal with mental health crises as well as enhancing security conditions in prisons and jails. It also called for creating a national law enforcement accountability database to track officer misconduct.
The caucus' leader is Rep. Steven Horsford of Nevada. Horsford said that Attorney General Merrick Garland has received the letter and promised to get back to the CBC.
The CBC is focusing on poor policing, not "coming after law enforcement as a whole," Horsford said.
"We don't want to end policing. We want to put an end to bad policing," he explained. "All of us, regardless of party, should agree that bad policing has no place in America. That is why we are working to build consensus. This is not a Black issue alone. This is not a Black, Brown or White issue. This is a public safety and accountability issue. It is not a Republican, Democratic or Independent issue. It is a public safety and accountability issue."
Horsford noted, however, that the CBC's top priority this session would be public safety reform, particularly in the areas of police accountability, openness, and standards.
Horsford spoke about  one of the most recent examples of unjust policing by saying, "People have talked about the brutal, brutal beating of Tyre Nichols, which resulted in his death and is a reminder that we have a long way to go and solving systemic police violence in America."
On January 7, Nichols, a 29-year-old Black man, was stopped by Memphis police officers for reportedly driving recklessly. The traffic stop quickly turned violent, however, as five Black police officers assaulted Nichols until he was left unconscious. Nichols died on January 10 as a result of the injuries he received in the encounter.
"What we are saying as the Congressional Black Caucus is that no one should die as a result of a traffic stop," Horsford said. "No child who goes to a park should not come home. No one should die in the middle of the night when someone busts through their door in their home."