Video From Nia Wilson Demonstration Shows White Alleged Proud Boys Member Get Beaten By Protesters
The alt-right group was rumored to be holding a meeting during the march.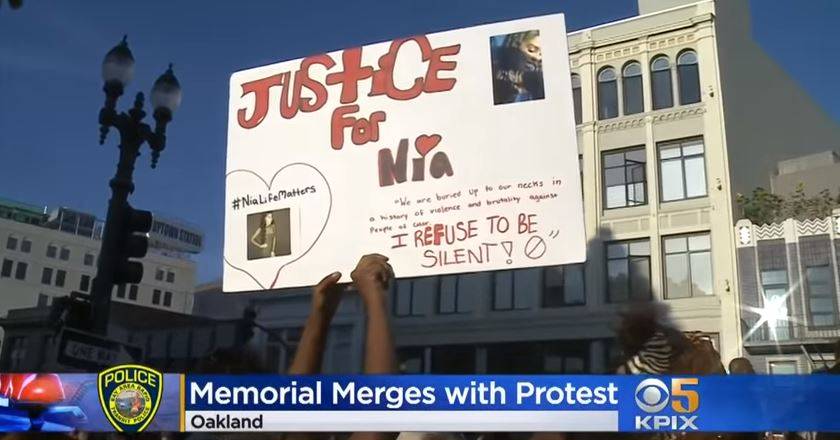 Video taken from an Oakland rally shows a man who was believed to be a member of the Proud Boys get attacked by a group of counter protesters.
For those that don't know, the Proud Boys is a controversial group that describes themselves as a men's organization founded in 2016 by Vice Media co-founder Gavin McInnes. Although McInnes described the Proud Boys as "a pro-Western fraternal organization for men who refuse to apologize for creating the modern world; aka Western Chauvinists," others have seen the group as an alt-right organization.
The Proud Boys say, "We do not discriminate based upon race or sexual orientation/preference. We are not an 'ism,' ist,' or 'phobic' that fits the Left's narrative. We truly believe that the West Is The Best and welcome those who believe in the same tenets as us. We have an international reach, with members spanning the globe."
However, as protesters have marched for justice in the death of 18-year-old Nia Wilson, who was stabbed by white man on the BART train platform, racial tensions have risen in the city of Oakland.
While hundreds of protesters gathered for a vigil and rally at MacArthur BART for Nia Wilson, there were rumors that the Proud Boys planned a meet-up at Make Westing in downtown Oakland last week.
Protests gathered outside Make Westing in preparation for the meeting. Soon, the demonstration became violent when a group of people attacked a man who they assumed to be a member of the Proud Boys.
Once the video went viral on social media, some people said Proud Boys had never actually planned to hold a meeting in Oakland that day, reported HEAVY.
While some people say "ProudBoysUSA" is not an "alt-right" group of white supremacists, they have been associated with extremist gatherings like the Charlottesville "Unite the Right" rally," according to the Southern Poverty Law Center.
"Their disavowals of bigotry are belied by their actions: rank-and-file Proud Boys and leaders regularly spout white nationalist memes and maintain affiliations with known extremists. They are known for anti-Muslim and misogynistic rhetoric. Proud Boys have appeared alongside other hate groups at extremist gatherings like the 'Unite the Right' rally in Charlottesville," the SPLC says.
No further information has been provided on the man attacked or the attackers.