Five Things To Watch For When Kamala Harris And Mike Pence Go Toe-To-Toe
Don't expect the meltdown that took place last week, but the two will do some verbal boxing.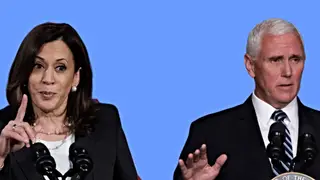 Coronavirus will be top of mind.

Both Harris and Pence have tested negative for COVD-19, along with Democratic candidate Joe Biden. But The Trump administration's response over the past several months has been criticized as everything from cavalier to downright irresponsible. To date, 211,000 Americans have died of the disease and Trump's contracting of it has brought that reality straight into the public eye. Harris will likely make this point, while Pence will defend the administration's record, point to Trump's personal connection to COVID-19, repeat Trump's blame on China and boasts that vaccines are just around the corner.
The two will also probably spar over the president's questionable decision to leave hospital care after only two days of treatment. Many news outlets are saying that too little information has been released from the White House about his condition and how others may be endangered.

Harris will be challenged and criticized on progressive issues

Harris will also be pressed on Biden's past controversies on race. In the last debate, Trump erroneously accused Biden of the "superpredator" comment, which actually came from former presidential candidate Hillary Clinton. Pence may try the same thing, along with asking how Biden's administration proposes to keep "law and order," in American cities after months of violent protesting, which is a major platform of Trump.

When opposites don't attract

The vice presidential debate will be the first to have a woman of color on the stage. Harris, who was born in Oakland, is a woman of Jamaican and Indian descent and identifies with both her Black and South Asian heritage. She was partially raised in Montreal, attended the HBCU Howard University and is a member of a predominantly Black sorority, Alpha Kappa Alpha. Her professional career landed her right back in the Bay Area, prosecuting criminal cases, many of which involved communities of color.
Pence, on the other hand, is a white, male evangelical born and bred in Indiana who hosted a conservative radio talk show in the 90s. He has described himself as "a Christian, a conservative and a Republican, in that order." While governor of Indiana, he was also a backer of the Religious Freedom Restoration Act, which was criticized as discriminatory to the LGBTQ+ community. He also is in opposition of amnesty for undocumented immigrants and has favored stricter laws including increased border security.
In short, there is little the two have in common and you'd be hard pressed to find if they actually agree on any of the same topics. However, outside of their campaigns, both have expressed a willingness to listen to opposing viewpoints and work with others to reach a common goal.

Their Debate Styles Will Be On Display

The method Harris uses to make her point is no secret. While in Congress, she has been outspoken and direct on several issues placed before the Senate. Last year, she had a pointed exchange with Attorney General William Barr over the Mueller Report on Russian interference in the 2016 election. She also had the same type of sparring match with Sen. John Cornyn over police reform after the death of George Floyd.

In Pence's case, he may seem to let Trump do all the talking for the administration, but he's no slouch. For example, in the 2016 vice presidential debate with Clinton's running mate Sen. Tim Kaine, Pence attacked the Obama administration (while Clinton was Secretary of State), saying that it never stood up to Russian aggression. He is also known to be level headed and able to stick to talking points, even when defending Trump, much as he did in the debate four years ago.

Grown Ups Have Come To Talk

The first presidential debate was roundly blasted as a failure. Trump continued to ramble on, criticizing Biden, interrupting him seemingly every chance he got, which ultimately prompted Biden to snap "will you shut up, man?" 
As a result, the Commission on Presidential Debates decided to add "additional structure" to the remaining showdowns between the candidates, according to its statement. The first debate "made clear that additional structure should be added to the format of the remaining debates to ensure a more orderly discussion of the issues," said the CPD.

In addition to having the plexiglass and a reported 12 feet distance between them, the debate between Harrisz and Pence should be more orderly and while it will likely be spirited, a certain amount of decorum should be expected.
The CPD said it "intends to ensure that additional tools to maintain order are in place for the remaining debates."

Meanwhile, Trump has said that he will participate in a second, town hall style presidential debate with Biden, which has been scheduled for Oct. 15 in Miami. It remains to be seen how it will be approached given the president's current medical condition and what his health outlook might be.

BET is your source for the latest political news to help you make the most informed decision during the 2020 election. Check out our daily "Black America's Vote" election blog for more information.