Women's History Month: Mickey Guyton Continues To Break Down Barriers In Country Music
The singer made history as the first Black solo female artist to earn a Grammy nomination in a country music category.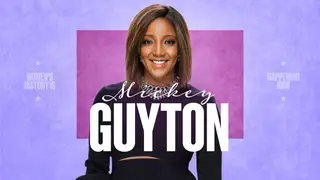 Four-time Grammy-nominated artist Mickey Guyton is carving out her own path in the world of country music. After releasing her first studio album, "Remember Her Name" in 2021, the singer-songwriter, who recently performed at the Super Bowl, quickly rose to superstardom. 
"Black Like Me," documented the Texas native's struggle to rise to the top in an industry dominated by white talent and gatekeepers. The self-released ballad found traction as the nation navigated a racial reckoning.
In an interview, Guyton told HuffPost, "I didn't write this song for this moment. I wrote this song before this moment, for Black people in country music and for Black people in America in general. This is out of my own frustration."
That fall, Guyton performed at the 2020 Academy of Country Music Awards. Guyton was on stage at the 63rd Grammy Awards, performing the song by the following spring.
The 38-year-old mother and wife made history as the first Black solo female artist to be nominated in a Grammy country category and continues to amplify the marginalization of Black Americans and women through song.