50 Cent's Revenge Porn Cost Him $5 Million
Jury orders Fiddy to cut a huge check to Rick Ross' ex.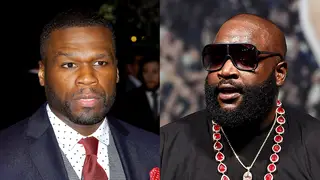 50 Cent's pockets are significantly lighter today, after a jury ordered the mogul to pay $5 million to Rick Ross' baby's mother Lastonia Levinston. The judgment results from a civil suit brought against 50 by Levinston after the rapper decided to make her a pawn in his game of revenge porn.
For those not up-to-date with Fiddy's feuds, it all started back in 2009 when the rapper posted a sex tape featuring Levinston and her then-boyfriend Maurice Murray online as a way of getting back at Ross. 50 embellished the video by — uh — inserting himself into the footage and even adding in a soundtrack of two of his songs. The video was up for about an hour and racked up 3 million views.
The jury deliberated for about that same amount of time before deciding 50, who did not show up in court, should pay $2.5 million for violating Levinston's civil rights for using her image without her permission, and $2.5 million for intentional infliction of emotional distress. That number could more than double depending on the price tag the jury decides to put on punitive damages next week.
As for 50's defense, his attorney argued in court that his client had gotten the tape from Murray, who assured the Power star that Levinston "was cool with it" if Fiddy posted it online. However, TMZ reported in May that Fif sued Ross, claiming that the Maybach Music Group boss was the one who posted the video and he only linked to it.
Sadly, Levinston was the one who got caught in the crosshairs of the rappers' beef. but hopefully today's judgment will make moving on a little easier.
50 is legendary for his beefs and, in hip hop, everybody's a target. Watch the rapper and actor come for Iggy Azalea in our exclusive interview, below:
BET.com is your #1 source for Black celebrity news, photos, exclusive videos and all the latest in the world ofhip hop and R&B music.