Dwayne Johnson Celebrates Youngest Daughter Tiana With Princess-Themed Party
The five-year-old's birthday was in April.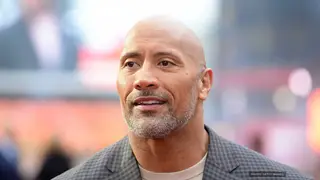 Princesses never go out of style, which Dwayne Johnson's youngest baby girl seems to know about.
Over the weekend, the pro wrestler turned action star shared a fun photo of his five-year-old daughter's princess-themed birthday bash, who turned five back in April, as reported by GMA.
In the post—which has garnered over 1.5 million likes on Instagram—Tiana is wearing a pink and gold dress while being held by her famous father. She appears delighted as Johnson sends her an air smooch.
"Monster 😘 for Tia's first princess party with all her friends," Johnson's post read.
"Lots of little magical Princesses running around the house having fun and none of them were scared of daddy 🙋🏽‍♂️👍🏾 Only the moms 😉" he wrote. "Fun day for the kiddos! #estrogendominance"
Back in April, the Black Adam actor's wife, Lauren Hashian, took to Instagram with a carousel of images to celebrate Tiana's special day in a heart-warming message fit for a princess.
"My little peanut turned 5 this month and I have to commemorate her birthday before April is over! Tia… sighhh… what words can ever describe how smart, funny, witty, joyful, incredible, and scrumptious you are."
"Our wise little soul, my little shadow all the time and I hope that never stops, bursting with love!", the caption in the post continued. "No one wakes up as happy as you! And we just live for it :) Thank you for the joy you bring to the lives of all who know you and love you!! You are JOY!! We LOVE you!! Happy Birthday our sweetest beautiful baby TIA bubuh!!!"
Johnson and Hashain are also parents to their seven-year-old daughter Jasmine. Along with Jasmine and Tiana, Johnson has a 21-year-old daughter Simone Alexandra Johnson whom he shares with ex-wife Dany Garcia that is following in his footsteps. Last year, Simone became a professional wrestler and debuted on-screen in the WWE ring as Ava Raine.