Madonna Celebrates Son David Banda's 18th Birthday
"You light up like the brightest star!" said the Grammy winner.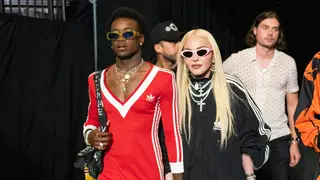 Madonna is turning up with her son David Banda for his 18th trip around the sun.
To celebrate her son's milestone birthday, the Material Girl posted a recap of Banda's epic birthday bash attended by family and friends. Michael Jackson's 1983 hit "Wanna Be Startin' Somethin'" played underneath the video montage on Instagram.
"Happy 18th Birthday David Banda!" she began the post's caption. Then, the proud mom listed his tribal name -Senzangakona. He is a descendant of the Ngoni and Zulu Tribe.
The "Like A Virgin" hitmaker continued, "It is impossible to believe that almost 18 years have gone by since We met you in Mchinji at Home of Hope Orphanage! Your name means "Speak the truth"! I couldn't think of a better name for an artist!"
"You are growing into a truly remarkable human being! We are all so proud or you! ♥️🇲🇼.
You light up like the brightest star!" She concluded the tribute with three gold star emojis.
Madonna adopted Banda from the Home of Hope orphanage in Lilongwe, Malawi, when he was three years old after battling pneumonia and malaria. After bringing him back stateside to live with her, she received backlash.
"Every newspaper said I kidnapped him," she told People. "In my mind, I was thinking, 'Wait a minute. I'm trying to save somebody's life. Why are you all s---ing on me right now?' I did everything by the book. That was a real low point for me. I would cry myself to sleep."
In 2019, she opened up on her decision not to give Banda cell phone privileges when he was 13 due to the effects she had seen it have on his older siblings.
"It ended my relationship with them, really. Not completely, but it became a very, very big part of their lives," she explained to British Vogue. "They became too inundated with imagery and started to compare themselves to other people, and that's really bad for self-growth."
In addition to Banda, Madonna is the mom to five other kids, including Lourdes, 26; Rocco, 23; Mercy, 17; and 11-year-old twins, Estere and Stella.