Joan Smalls Shares Her Fitness Routines as Self Magazine Cover Girl
The model also reveals her guilty pleasures and the foods she can't live without.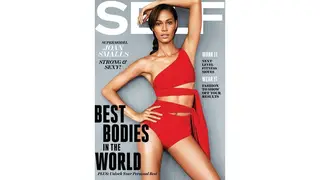 Joan Smalls is currently gracing the cover of Self magazine and the model looks so lean and toned, we're eager to know how the 26-year-old Puerto Rican beauty maintains her body. When your entire career is built on the way you look, you know you'll go the extra mile to make sure it stays in top shape. 

"I want to last in my career, and that relies on the way my body performs," Smalls said. "So I need to take care of it."
Smalls, who works out with personal trainer Marc Gordon, avoids coffee and alcohol and goes to bed by 10:30 p.m. She admitted to having a weakness for sugar as well as Puerto Rican, Italian and Thai food, but she includes lots of fruits and vegetables to make up for it.
"I don't want to be on such a strict diet that I don't have fun," she says. "So if I eat sweets, I'll just put in more of an effort when I go to the gym."
She also explained her rise to the top in the past five years, setting her sights on some lofty goals, and checking them all off and then some. Not only has she walked the runways for many high-end designers like Chanel, Prada, Gucci, Givenchy, Versace, Dior and others, but she's appeared in fashion spreads and campaigns worldwide. In 2011, Smalls earned the distinction of being the first Latina to land a global contract with Estée Lauder. Her story is an inspiring one and it's great to see her putting in the work to make sure she remains the stylish and healthy powerhouse we've come to love.
BET.com always gives you the latest fashion and beauty trends, tips and news. We are committed to bringing you the best of Black lifestyle and celebrity culture.
(Photo: Self Magazine, October 2014)