Brian Tyree Henry Jokes About Being Jealous of His 'Spider-Verse' Character's 'Amazingly Built' Body
The highly-anticipated animated film also features the voice talents of Issa Rae and Shameik Moore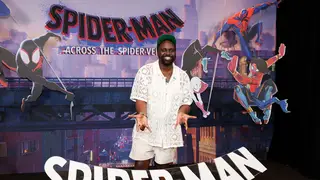 Spider-Man: Across the Spider-Verse is hitting theaters tomorrow (June 2) and fans are excited. Stars of the film are also excited to share their talents and their characters.
One of the film's stars, Brian Tyree Henry said that his character, Jefferson, really resonates with him.
"Jefferson holds a place in my heart just because he's the kind of father I wanted to see on the screens growing up," said Henry of his character. "I really wanted to make sure that fathers come to see themselves reflected in Jefferson — fathers that are there for their sons and will do anything for them."
Henry also said that he is jealous of Jefferson's amazing computer-animated physique.
"I want my character's traps and lats," Henry joked with People at the film's premiere. "He's so amazingly built." 
Henry voices the father to Miles Morales (Shameik Moore), aka Spider-Man.
Moore is reprising his role from 2018's Into the Spider-Verse. Also returning are Hailee Steinfeld as Gwen Stacy, Jake Johnson as Peter B. Parker, and Luna Lauren Vélez as Miles' mother Rio.
In the film, Henry's character Jefferson struggles to support and connect with his son and tries "to find ways not to strangle" him, jokes Henry: "Jefferson has always got a good head on his shoulders and is trying to find a way to be there for his son in the best possible way."
"Teenagers nowadays, it's really hard," Henry added. "But it's even more hard when they are a superhero."
Insecure creator Issa Rae also chimed in on her role in the film as Jessica Drew, a pregnant, motorcycle-riding Spider-Woman. "While I can't identify with the superhero part, I can identify with other elements," said Issa Rae,. "The fact that there is a Black woman who is beautiful and a superhero is incredible."
"It literally is just such a good movie," she continued. "But I think the icing on the cake is how representative of people around the world it is, how representative of subcultures it is, how international it is."