Barack And Michelle Obama Dedicate Sweet Message To Daughter Malia On Her 25th Birthday
"I hope 25 brings you everything you're looking for and more," dad tweeted.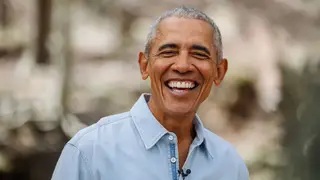 Birthdays only come once a year, so Barack and Michelle Obama made sure to make eldest daughter Malia Obama's 25th a day to remember.
To mark her 25th year in life, her too cool parents took to social media to show how much she really means to them. On Tuesday (July 4), the former 44th President of the United States wrote "Happy birthday to this talented, hilarious, and beautiful young woman." He added, according to  Entertainment Tonight. "Malia, I hope 25 brings you everything you're looking for and more."
In the post, Barack accompanied the heartfelt message with a loving photo of he and the birthday girl in a cozy hug in what appears to be the Oval Office.
Her mom, Michelle Obama, also raised a toast to her daughter on her own account by reflecting on the early infant days with Malia. In the photo, the mother-daughter duo are both fashioned in white as Michelle holds her while baby Malia shows a big grin. In the post she says, "Happy birthday Malia!" She added, "I feel so lucky to be your mom and to be able to watch you become the wonderful young woman you are today. Love you so much! 💕"
And what a young woman she is becoming! Sasha began charting her own course when she decided to take a gap year after high school, as reported by CBS, then she followed in her father's footsteps by attending Harvard. She graduated from the university  in 2021.
Earlier this year, she earned her first writing gig in Donald Glover's psychological thriller series Swarm which stars Dominique Fishback and Chloe Bailey. According to its showrunner Janine Nabers, ET reports that the former first daughter is "an incredible writer" who "brought a lot to the table."
She added, "Some of her pitches were wild as hell, and they were just so good and so funny," Nabers said. "... She's really, really dedicated to her craft."