BET Awards '20: Reliving Prince's Best Show Moments
Enjoy some of our favorite memories of the one and only, Prince.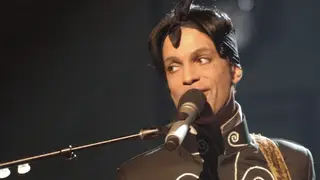 It is officially Gemini season and we'd be remiss if we didn't acknowledge one of our favorite Geminis, Prince. The Purple One would have turned 62 this year on June 7th. As with many other legendary Black artists, Prince has had his fair share of memorable moments at the BET Awards before he passed away in 2016.
This year's BET Awards on June 28th, 8 pm EST will undoubtedly have more must-see TV for fans to enjoy. Somebody is bound to be the next viral meme on the upcoming show. Tune in and find out who!
For now, enjoy some notable Prince moments from previous BET Awards shows!
Prince Wearing Prince

In 2010, Prince was awarded the Lifetime Achievement Award. Known for his interesting fashion choices (Anyone remember those famous yellow pants with the butt cheek cut-outs?), but nobody was really prepared for his choice of clothing that evening. Prince donned a tunic that featured...Prince. Yes, Prince wore himself. He was good at keeping the world guessing. You really never knew what he would do next.

Meme King

If you put "Prince" into any gif generator, you are sure to get a ton of results. From unbothered to curious, there is a Prince meme for any mood. When a pregnant Alicia Keys hopped on top of a piano as she performed "Adore," Prince seemed genuinely concerned. Without speaking words, his face from his front row seat said "I'm not so sure about this." Of course the moment was captured on camera and we were granted the internet gold. In the end, Keys was fine and Prince was thankful for and very happy with the performances done in his honor.

Holding the Real Prize

Prince was truly touched by receiving the 2010 Lifetime Achievement Award, but he had already touched the real prize earlier in the ceremony. Patti LaBelle gave a soaring rendition of Prince's hit "Purple Rain." In the process, Ms. Patti ended up taking her shoes off. That's something she has done for decades when she gets to point in a song that really sends her. It was at that point when Prince picked up LaBelle's shoe and held it in the air as the treasure that it was.

Prince, Chaka Khan and Stevie Wonder Performing "I Feel For You"

Woah! There's no way to overstate the significance of this moment at the 2006 BET Awards. Three legends took to the stage. Prince, Chaka Khan, and Stevie Wonder performed Khan's hit song "I Feel For You." This was a fitting trio to perform this hit because Prince wrote the song and included it on his 1979 debut album, but he later gave the song to Chaka Khan who released her version (with Stevie Wonder on the harmonica) on her 1984 album of the same name. Khan's version won two Grammys--one for Prince for songwriting and one for her for Best R&B vocals.

The Spirit of Prince

At the 2016 BET Awards, just months after Prince's untimely passing, several artists took to the stage in his honor. He was not there physically, but his presence was felt by everyone. A diverse range of creatives were part of the tribute, including Dave Chappelle, Erykah Badu, Questlove, Stevie Wonder, Jennifer Hudson, Janelle Monae, Maxwell and others. Fittingly, Prince's long-time collaborator Sheila E. closed out the tribute with a high-energy medley that was the perfect way to end the show. During his acceptance speech for the 2010 Lifetime Achievement Award, he had the right idea in mind. "I do believe the future is in good hands. I've seen so much talent here tonight," said Prince. I'm very thankful to be a part of this world of music."