Look: Michelle Obama's New York Times Style Magazine Cover Has Us Shook
"To the first lady, with love."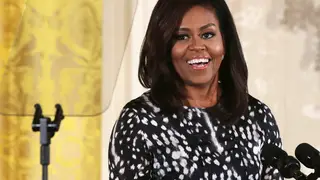 In the October 23 issue, the first lady will be celebrated in a piece called "The Greats," where the magazine has chosen to honor seven iconic people. Along with Obama, the issue will feature Lady Gaga, Junya Watanabe, Zadie Smith, Kerry James Marshall and several other visionaries. 
Michelle Obama's feature, "To the First Lady, With Love," includes four heartfelt and personal thank you letters to the FLOTUS. Chimamanda Ngozi Adichie, Gloria Steinem, Jon Meacham and Rashida Jones contributed their personal letters which all detail specific moments that Obama absolutely inspired them.
Our first lady will certainly go down in history as being one of the most influential and important women of our time, and this feature proves it.
Rashida Jones describes Michelle Obama perfectly when she says, "Michelle Obama embodies the modern, American woman, and I don't mean that in any platitudinous or vague way. Rarely can someone express their many identities at the same time while seeming authentic."
She is the modern American woman in every sense and it was an honor and a privilege to watch her thrive for the last eight years.