Dallas Rapper Lil Loaded Dies At 20 Years Old
He was known for the 2019 song "6locc 6a6y."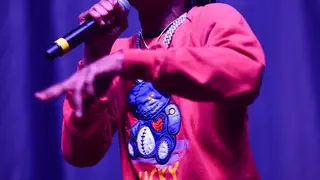 Dallas rapper Lil Loaded has died at just 20 years old.
According to USA Today, Ashkan Mehryari, an attorney for the rapper, who was born Dashawn Robertson,  stated, "Sadly, I am able to confirm Mr. Robertson passed away today," Mehryari wrote in a statement. 
The cause of death has not yet been made public. 
USA Today also reports the rapper was arrested last year on a murder charge related to the October shooting of his friend, 18-year-old Khalil Walker. In March, In March, he was indicted on a lesser charge of one count of manslaughter. Robertson was scheduled to appear at a hearing for the case on today (June 1).
Lil Loaded is best known for the 2019 song "6locc 6a6y." The video has over 29 million views on YouTube.