Black Columbus Police Lieutenant Slams $2 Jury Award As 'Blatantly Unfair'
Lt. Melissa McFadden won a civil lawsuit that argued she was retaliated and discriminated against.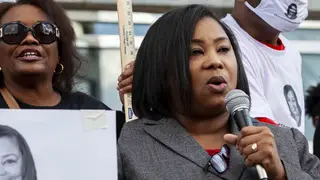 A Black Columbus police lieutenant, who received just $2 from a federal jury that agreed she was discriminated and retaliated against, is requesting a new trial for damages saying she's insulted by the tiny reward she received.
According to the Columbus Dispatch, Lt. Melissa McFadden won her civil lawsuit against the city of Columbus on June 13 and was awarded $2 by a jury in U.S. District Court in Columbus.
In June 2018, McFadden filed the lawsuit against the city, alleging she was discriminated against by being reassigned following an internal complaint filed against her.
John Marshall, one of McFadden's attorneys, said after the verdict that his client felt like she won the case. "It was more about the principle than money," he told The Dispatch.
On Monday (June 27), however, McFadden's legal team reportedly filed a motion seeking a new trial for damages, calling the jury's $2 judgment "insulting."
McFadden's motion said the jury was "perpetrating the very discrimination and retaliation the jury found the City had committed by apparently being anchored in dislike for her because she too aggressively pursued claims against what she perceived ... to be discrimination and retaliation."
McFadden's original lawsuit stemmed from her reassignment to the Columbus Police division's property room in 2017 following a complaint accusing her of creating a hostile work environment and giving a sergeant a higher performance evaluation than deserved because he was Black.
An internal investigation of McFadden recommended her termination, accusing her of fostering a "Black militancy mindset" and an "us-versus-them" attitude in favoring Black officers over white officers. But the city's public safety director declined to fire McFadden because the internal investigation failed to meet its burden of proof.
She accused the department of retaliation in her lawsuit and in 2020 self-published a book, titled Walking the Thin Black Line, about the racism she experiences in the police force.
"There is one voice missing in our national outrage over police brutality: the Black officer. They walk a thin black line every time they put on their uniform," the introduction reads. "A tightrope, really. On one side is the Black community they strive to serve and protect from unjust treatment. On the other, a racist institution where they experience ongoing discrimination themselves. Retaliation is swift when they dare to expose the motivation or execution of the many tactics used to brutalize citizens and intimidate minority officers."
McFadden's attorney said she's still working for the police department in the officer wellness bureau and expects a promotion to commander.