Who's The G.O.A.T.? Death Row Family vs Hieroglyphics | Round 1
In the tournament to decide the greatest rap crew of all time, this Round 1 battle is between the Death Row Family and Hieroglyphics.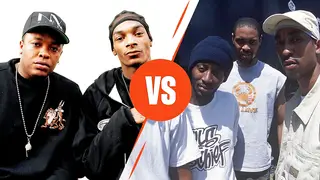 In recognition of hip hop's 50th anniversary, BET, in partnership with Ambrosia For Heads, is celebrating the culture by hosting a bracket-style competition that allows you to determine hip hop's greatest crew.
Rather than having "experts" tell you who is the greatest of all-time, this is your opportunity to collectively make that decision. After giving the opportunity to any and all fans to provide feedback on which crews should be included, 32 collectives from different regions, styles, and generations have been selected—all vying for that #1 spot. When the final battle is over and the last vote is cast, you will have determined who is your Greatest Rap Crew of All Time.
In the mid-1990s, the Death Row family and the Hieroglyphics crew had simultaneous movements. Coming straight outta Compton and Long Beach, Death Row was topping the charts, appearing on magazine covers, and dominating video and radio shows. Meanwhile, 400 miles North, Del The Funky Homosapien, Souls Of Mischief, and Casual were cultivating a West Coast underground through jazz-tinged beats and dynamic lyricism. 
Death Row Family
Between 1992 and 1997, being stranded on Death Row was a great thing. Beyond just a label, Dr. Dre's third crew (after World Class Wreckin' Crew and N.W.A.) offered a clean slate creatively and a breeding ground for ill MCs needing the doctor's treatment. In this space, Dre and his cohorts used the G-Funk sound to take authentic-minded gangsta rap to the mainstream. This ensemble was fresh and distinct. Snoop Doggy Dogg possessed a smooth delivery and a conversational flow, while The Narrator RBX sounded sinister and robotic. The Lady Of Rage exuded confidence on the mic, making her a standout, and Tha Dogg Pound quickly proved themselves as stars far beyond Snoop's affiliates. 
This movement also included off-label stars like Dre's half-brother Warren G and DJ Quik. Dre's "The Chronic" was a hot box of ensemble talent, a motif that carried over to "Doggystyle." Songs like "Stranded On Death Row," "Lyrical Gangbang," and the vinyl rarity "Puffin' On Blunts And Drankin' Tanqueray" were domineering posse cuts with artists who brandished their Row affiliation like a fraternity and rapped together with explosive chemistry. Soundtracks offered places for collaboration and fellowship, including with Tupac Shakur, who joined the squad upon his 1995 prison release. 
Hieroglyphics
The Hieroglyphics is a name fit for a crew built through pyramids. In 1991, Del The Funky Homosapien released his debut album, "I Wish My Brother George Was Here." His initial discovery was a mixture of talent and the fact that he was Ice Cube's songwriting cousin. Between that and Del's sophomore, "No Need For Alarm," the Oakland, California, MC was intent on putting others on. A 1991 vinyl B-side "Burnt" featured Casual and three-fourths of what would become Souls Of Mischief. The crew was dubbed The Hieroglyphics, and the song caught fire around the Bay. Both Souls, a teenage quartet of Tajai, Opio, Phesto, and A-Plus, and Casual secured deals with Jive Records on the look. 
The crew's emergence coincided with Del finding a stride in his music that veered away from funk and embraced jazz and compound-rhyming lyricism on 1993's "No Need for Alarm." That year, Del went on to co-produce the Souls' debut, "93 'Til Infinity," where the crew functioned in ensemble capacities. 
The same was true when Casual unleashed "Fear Itself" a year later. The Hieroglyphics gave Oakland and the Bay an alternative sound and style to mainstream hip hop. By the end of the 1990s, Hiero established its own label and began releasing crew albums, compilations, and distinguishing new voices. 
The posse cuts "You Never Knew" and the Domino-produced "Make Your Move," which features Pep Love, are shining examples of Hiero's masterful mosaics. Thirty years later, Hiero has expanded its brand into a hometown festival, a successful merch line, and a podcast platform—as artists remain active—including an ongoing Souls Of Mischief 30th anniversary tour.
In this celebration of hip hop and all of its talented crews, your vote decides the winner. 
---
EDITOR's NOTE: Register for the sweepstakes for a chance to win the grand prize of (2) two tickets to the 2023 BET Awards, (2) two round-trip airline tickets, and a 2-night hotel stay on June 25. Up your chances to win by voting weekly.
NO PURCHASE NECESSARY TO ENTER OR WIN. VOID OUTSIDE OF THE 50 U.S. & D.C. AND WHERE PROHIBITED BY LAW. Open to legal residents of the 50 U.S. & D.C. who are 18 years of age or older at the time of entry. Ends at 12:00 p.m. ET on May 1, 2023. Official Rules: bet.com/grcoat-official-rules. Sponsor: Black Entertainment Television.