What You Need To Know About Florida's New Voting Law And The Potential Damage To Black Voters
The controversial law, SB 7050, goes into effect on July 1, 2023, but it has the potential to disenfranchise millions of voters.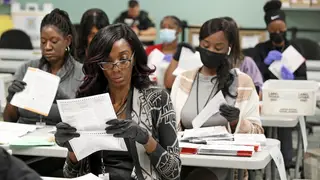 In the state of Florida, Gov. Ron DeSantis is enacting an extremely conservative agenda with the full backing of the Republican supermajority in the state legislature. The controversy surrounding him has made headlines for a year.
But now, one of the latest pieces of legislation passed in Florida is a new election bill titled SB 7050. The bill, which goes into effect on July 1, 2023, has garnered harsh criticism from Democratic lawmakers and voting rights activists as a "right-wing" approach to legalize voter suppression.
Genesis Robinson, political director of Equal Ground,a voter advocacy nonprofit organization, has testified against SB 7050 and other extreme bills in the legislature that says has further disenfranchised Black voters and other marginalized communities.
"The state of Florida has sought to undermine our elections process for the last three years, " Robinson argues. "It was said by our governor and state leaders that the 2020 election was the most successful and secure election in the history of the state of Florida.
"But for three consecutive years, they have sought to pose limitations at the ballot box. It extends beyond that, with redistricting and the elimination of Black access seats. So this has been a direct attack on voting rights in the state of Florida, and Black people have disproportionately borne the brunt of that suppression."
"The governor would have folks believe that everyone in the state of Florida is excited to live in what he claims is a "free state," he continued. "But yet the folks that actually live here are experiencing our rights being eroded every day."
For a closer look at SB 7050, read the list below:
Election police would have expanded power to investigate and prosecute accusations of election violations.

Although there is little evidence of voter fraud in the state, election police will be vested with more authority than ever to investigate claims of violations. Florida's Department of State is now authorized to receive election-related complaints and could refer election crimes to local law enforcement authorities for investigation and prosecution.

Residents can be removed from the voter rolls with greater frequency.

SB 7050 strengthens requirements for voter list maintenance, which could open the door for the removal of eligible voters from voting rolls. The law will require election officials to use more evidence of change-of-address information to remove voters from the books and the review of registrations annually to determine what voters aren't registered at legal residence and begin the removal of those voters from the rolls.

First-time voters are required to vote in person.

First-time Florida voters who have not gotten a state-issued driver's license or ID card or Social Security number would be required to vote in person, according to a legislative analysis. The only exception is "unless a federally mandated exception applies," Before the law was enacted, these specific voters were permitted to vote by mail if they included a copy of an identifying document along with their mail-in ballot. According to Floridados.gov, more than two-million first-time voters voted by mail in the 2022 election.

Fines for violations from third-party voter organizations would be raised from $1,000 to $250,000.

At the discretion of the state, if third-party voter organizations commit any infraction, the penalty is steep. In 2021, if fines were levied at voter organizations they were  $1,000. Under SB 7050, the fines have increased exponentially to $250,000. Because of this new reality, many churches and other non-profits that hold voting drives have already decided not to involve their organizations in the upcoming election due to possible fines, Robinson noted. Additionally, volunteer organizations are required to conduct full background checks on every single volunteer or be fined $50,000 for each person.

Florida politicians do not need to resign from office if running for president or vice president.

In a move that seems to directly impact DeSantis' own possible political ambitions,  Florida politicians will no longer have to resign from office to pursue the presidency or vice presidency. By repealing the "resign to run" provision, DeSantis is positioning himself to be able to govern and campaign at the same time if he decides to run for office.

"He has the legislature in his back pocket," Robinson said. "They're doing whatever it is that he wants him to do."