Rep. Karen Bass Is Widening Lead Over Rick Caruso In L.A. Mayoral Race
She was at a rally on Saturday with community groups.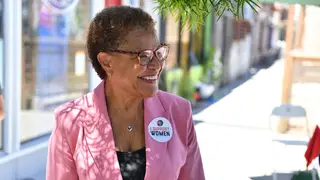 California Rep. Karen Bass has been formidable in the polls since announcing her run for mayor of Los Angeles, and now, she seems to be pulling away, a new poll reveals.
According to a new UC Berkeley/LA Times poll, out of more than 1,700 registered voters, 43 percent favored Bass compared to just 31 percent for Caruso, a former Republican and billionaire developer. CBS News reports that 24 percent of the voters were undecided.
It's the second poll in recent weeks that has had Bass leading.
"We're not going to let anybody break our alliance," Bass said at the Latinos Con Bass rally on Saturday (August 27) at LA City College. "The city faces a crisis now and the time is right for unity. We are not going to allow our communities to be pitted against each other."
Caruso's camp released the following statement:"Polls show the top issues of this race are homelessness, crime, and corruption. I'm the only candidate who has a plan to fix these issues and when voters focus on these issues, the dynamics of the race will change. I started this race down 30 points and beat out multiple career politicians to make the runoff and am confident the path to victory is clear."
In June, neither candidate earned enough votes to win outright the primary. The race will be decided in the general election.
Bass, a former chair of the Congressional Black Caucus, got her political start as a progressive community activist in South Central L.A. She would be the first woman to serve as mayor of Los Angeles and she would be just the second Black person to hold the office after Tom Bradley who served from 1973 to 1993.