Here's How To Encourage Your Children To Enter The Medical Field Without Pressuring Them!
Bristol Myers Squibb partnered with Jack and Jill of America to boost diversity in the high-paying field.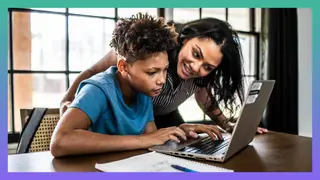 Bristol Myers Squibb (BMS) is on a mission to increase diversity within biopharma careers, a growing field that makes medicines for patients.
The overall goal of the three-year exclusive collaboration? To close the gap of diversity in the high-paying medical field and ultimately improve minority health outcomes.
"We've been working on this collaboration for a year now," says Shamika Williams. The Senior Director of HBCU Strategy at Bristol Myers Squibb continues, "The opportunity to partner with Jack and Jill helps us to plant some seeds with young students and their parents to help them see what they can achieve in the biopharma industry."
The company hopes to do so by exposing the next generation of middle schoolers and high schoolers to medical career pathways in the biopharma industry through education and awareness.
"You have to have the information to be informed. My role is to ensure the presence and the voice of Black individuals in this industry. We have a huge gap from a representation perspective," she explains, pointing out the lack of health care professionals who are involved in clinical trials and medical marketing. "From the healthcare perspective, we want to make sure that there are voices at the table that are representative of the Black community."
So far so good. Williams reports that the kick-off of the program at Jack and Jill's bi-annual 45th National Convention in July was successful. "At the convention, I saw light bulbs going off for some of the students. Some of the parents also stopped by the booth asking questions about BMS and how they can be a part of the industry."
For parents who are wondering how to encourage their children to consider a job in the high-paying medical field without pressuring them, Williams says it all starts with a conversation.
"You want your child to tap into their passion," she advises. "Many times, I hear from young people that they want to contribute to society at large. Being in this industry, I found that there's such a huge opportunity to give to the community as a whole. When you have a patient come up to you and say 'thank you because I'm here five years longer and I was able to see my child's wedding,' you realize the impact that you have had on the larger community."
She continues, "As a parent, I would leverage that as an opportunity to talk to children about having an impact by helping people prevail over diseases. I would also encourage them to be a representative voice in an industry that has not been representative of our voice in the past. If I was a parent, I would also leverage COVID as an opportunity to inspire young students to get into the healthcare and biopharma industry. Start having conversations about the disparate impact of healthcare in the Black community. We need them to be a voice at the table. We need them to drive innovation."
According to Zippia, only 4.7% of practicing doctors are Black in the United States.
Williams concludes, "We have to have some Black people in the room to influence the landscape of their peers in the industry. I don't think students realize the plethora of opportunities that are in our industry, as well as the opportunity to do well financially. There's also potential to have an impact on your local community."
To learn more about how BMS plans to ensure patients of color receive optimal care by bringing more Black physicians and healthcare experts into the field visit: bms.com
Editor's Note: This story/interview has been edited and condensed for clarity.