R. Kelly's Lawyer Demands A New Trial
One of the singer's alleged victims is accused of lying under oath.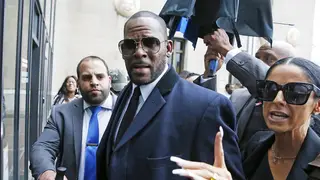 R. Kelly is currently awaiting sentencing after he was found guilty in a Chicago federal court of producing child pornography and enticing girls for sex. His lawyer is now demanding the charges be dropped and calling for a new trial.
According to The Chicago Sun-Times, Jennifer Bonjean, Kelly's attorney, claims the woman who testified under the pseudonym "Jane" lied under oath. Bonjean alleges Jane hired experts to assist her in seeking $13 million in restitution from the Grammy winner. Bonjean stated in a motion, "Jane's testimony was not truthful when she claimed she was 'undecided' about whether she would seek restitution from the Defendant. She knew full well she was seeking restitution in an extraordinary amount if Defendant was convicted. The government knew it too."
In August, "Jane" testified she was a teenager when Kelly allegedly videotaped their sexual encounters. Now 37 years old, she told jurors that she and Kelly were the two people in the infamous pornographic videos, the Associated Press reports. She was only 14, and Kelly was in his 30s when the videos were recorded in the late 1990s. At the 2008 state trial, Jane declined to testify; therefore, the jury acquitted Kelly due to inconclusive evidence about the age of the female in the video. When asked why she didn't testify at the 2008 trial, Jane said she was protecting Kelly and was ashamed.
According to a transcript in the filing obtained by  The Chicago Sun-Times, Jane was also asked on the stand, "And you are seeking restitution or will seek restitution if he is convicted, correct?"
"I'm still undecided with that. No, that is not correct," Jane answered.
However, Kelly's attorney insists Jane already hired an attorney to help her with restitution and provided an invoice from Boston-based attorney Christopher L. Brown. Bonjean's motion says the invoice proves that Jane "absolutely knew of her intent" when she testified at the trial. Kelly is scheduled to be sentenced on Feb. 23, but Bonjean wants a new trial.
In June 2022, a federal court in New York sentenced Kelly, now 56, to a 30-year prison sentence after a Brooklyn jury found him guilty of racketeering and sex trafficking of underage girls and women. The motion for a new trial only applies to the Chicago trial, not the federal trial in New York.