Mary J. Blige's 'Strength of a Woman' Festival Gives Ladies Permission To Lunch, Learn And Play During Mother's Day Weekend
Tag along with BET.com for the star-studded, inaugural event, which highlighted the importance of entrepreneurship and wellness.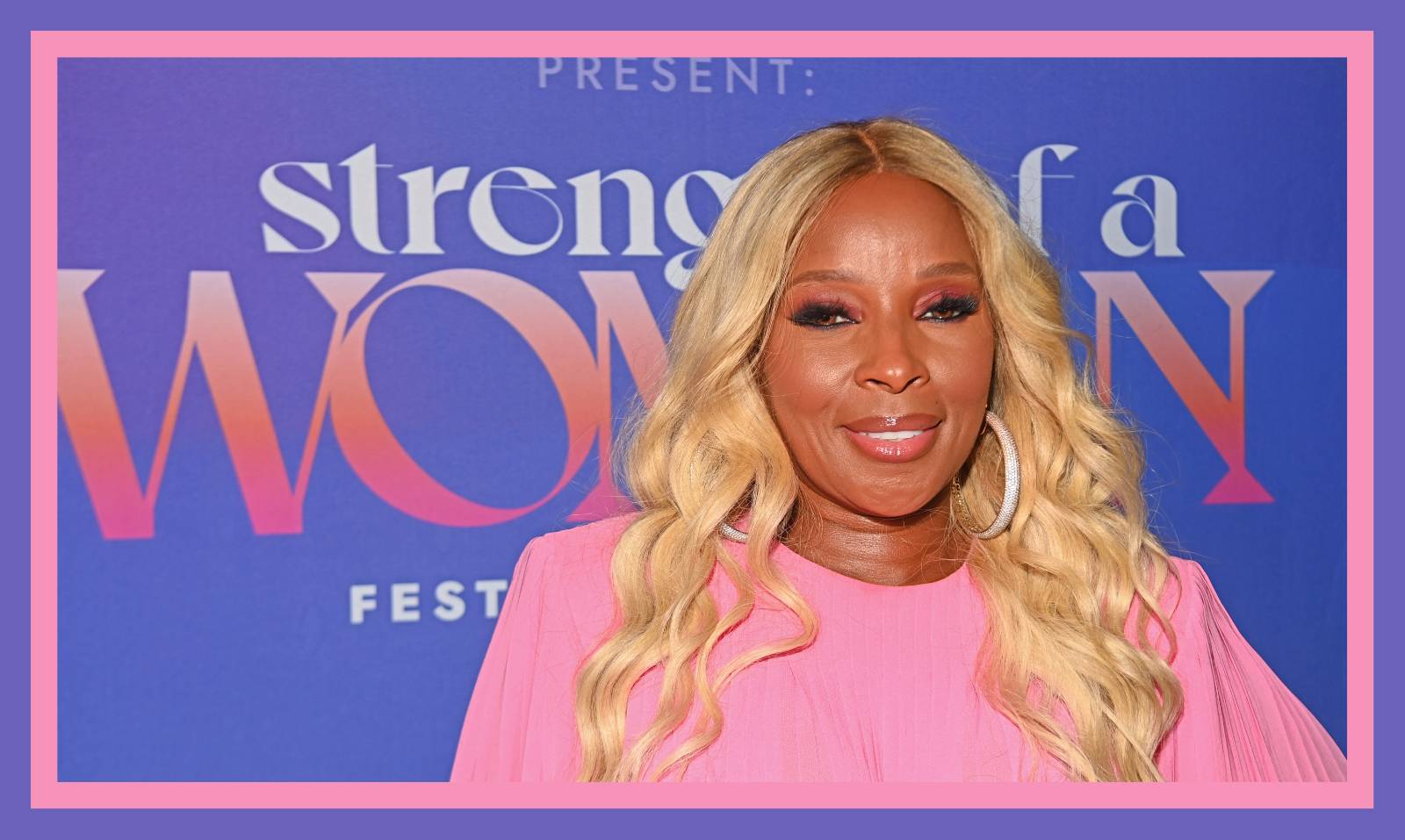 Mary J. Blige kicked off her inaugural Strength Of A Woman Festival & Summit in Atlanta over Mother's Day weekend and turned the three-day, star-studded event into 72 hours of pure, female empowerment. Presented in partnership with Pepsi and Live Nation Urban, the festival derived its name from Blige's 2017 released album, and featured a number of sold out events, including two concerts, a comedy night, a Food Truck Village, and a summit packed with celebrity panelists.
Prior to the festival, Atlanta mayor's office and city council declared May 5, 2022 as "Strength of a Woman Day" igniting what would be a jam-packed weekend for attendees.
BET.com was in the house for it all. Here's our virtual diary of some of the amazing events from the weekend's long, but powerful, list of activities.
---
Friday, May 6, 2022
The energy in Atlanta is always electric for Mother's Day Weekend, and this one is no different. On Friday night, I pass pockets of excited women as I enter the Tabernacle event space, located in busy downtown Atlanta, where the Gen Z concert is taking place. Kiana Ledé, Emotional Oranges, Sevyn Streeter, MK XYZ, and Inayah are scheduled to perform, along with former Atlanta resident, rapper Rubi Rose and one of the city's up and coming stars, Omerettá The Great, who shot to social media stardom with her viral hit "Sorry Not Sorry" earlier this year.
Once inside, I climb the stairs to the main floor of the venue, which is one of the most popular places to catch a live show in the city, mostly because of its rich history and great acoustics. Omeretta is already on stage, entertaining an animated crowd of mostly women, with her hit song that boldly proclaims what's "not Atlanta," a slight to the rapid gentrification engulfing the city.
The Gen Z concert is a proper kick-off to a weekend that's all about empowering women, specifically Black women.
Across town, a comedy night featuring acts like Ms. Pat is happening at Buckhead Theater. It means the evening's events have something for everyone, regardless of age. At its core, that's partly what the three-day festival is about— embracing Black women where they are, much in the same way that Mary's music does.
There's a specific focus on entrepreneurship, creativity, and wellness, and to that end, earlier today, PepsiCo's Stronger Together initiative donated $20,000 and revived a donation-based closet for City of Refuge, an organization that provides services to families and individuals in crisis to help their female residents get back on their feet.
Hours later, the sense of community lingers, even here in the Tabernacle, where thick pockets of women dance and celebrate life with each other, emboldened by the women singers and rappers who've been tapped to perform.
"It was important for me to be a part of this event because I wanted to get rid of the perception that women can't work together without being genuinely happy for each other," Omerettá later explains. "I'm passionate about who I am and what I stand for, and I wanted to encourage other women that may not even look or act like me to also be free to embrace themselves. As long as we can all accept and support each other, I don't think there is anything we can't accomplish."
After Omerettá leaves the stage, StarchildKayla, the Pepsi Music Lab finalist, is introduced, and she confidently plays "Up," the bouncy track that got her noticed before Rubi Rose twerks her way on stage, running through some of her hits like "Nunnedet Sh-t." The show caps off what's been an inclusive start to the festival and this is only night number one.
Saturday, May 7, 2022 | Daytime
The sun is playing hide and seek with the clouds the morning the Summit kicks off at one of Atlanta's go-to meet-up locations, The Gathering Spot. Featuring a host of famous women who've successfully paved their own pathways to success (Naturi Naughton, Myleik Teele, Phylicia Fant, Coco Jones, and Kandi Burruss Tucker, among others), the Summit's heavy focus on entrepreneurship has made it one of the weekend's big draws. Tamron Hall moderated the day's first panel with Blige, radio personality Angie Martinez, actress Tasha Smith and beauty influencer Supa Cent, where they talked about everything from maternal health to the very topical subject of abortion rights.
When I slip into a side door, the place is packed with women making their way between beautifully decorated rooms to catch the next panel of interest. I spot a smiling Tasha Smith in the hallway. Of course, she's drawn a small crowd of women wanting to take selfies or lean in for a quick hug before she hustles off to her next panel, ​​Beyond The Lens: Black Women Transforming The Worlds Of Television And Film. I head to the Serial Entrepreneurship panel featuring reality star/author Toya Johnson, radio personality Angela Yee, and artist manager Trish Taylor, sharing inspiring, honest advice about what it takes to run a successful business.
"I wanted my money to work for me," shares Yee, who owns several businesses including a juice bar chain, before stressing the importance of equitable partnerships. Great support, she says, is key.
This sound advice is echoed throughout the rest of the day, including by one of the event's big name hosts, restaurateur, chef, and author Carla Hall. Earlier, before the start of the festival, Hall explained she was so excited to be involved with the event.
"I'm a Black woman, so I know what it means to have that support, and to be in support of Black restaurants," said Hall, who is hosting the Halloween Baking Championship on Food Network this fall. "That's why I am so thrilled that a company like Pepsi, and with the Pepsi Dig In program is actually focusing specifically on this group to generate $100 million in sales for Black restaurants by 2025. I hate to say it's unheard of, but to have that targeted intention for these restaurants, it just goes a long way. And so it was a really easy yes, for me."
After the Serial Entrepreneurship panel wraps, I wander around the venue, passing women taking selfies in front of the elaborate photo staging areas that dot the space and pockets of women chattering about the panels with their friends as classic Mary J. Blige songs play in the background. I stopped at the Pepsi NFT Gallery checking out the vibrant artwork of some of the women Web3 artists, which were distributed as Proof of Attendance Protocols (POAPs), before heading outside to the Pepsi Dig In Food Truck Village,.
Black female-owned restaurants Slutty Vegan, Fowl Play, Lazy Foodie, and Cookie Society are all on hand, along with a DJ, pouring into an upbeat energy. After being greeted with a cheerful "Hi, Slut!" I ordered a Slutty burger and sat down at picnic benches that lined the outer area to watch Hall's panel with Slutty Vegan's popular restaurant's owner, Pinky Cole, Frost Bistro's Rasheeda Frost, and Toast on Lennox's Tamara Young on the outdoor screens. Recently, there's been fresh interest in ensuring the success and visibility of Black chefs and restaurateurs, making  this panel particularly timely. Hall told me earlier that in addition to community support of Black neighborhood restaurants, these kinds of transparent conversations are key.
"A lot of times when you are a small business owner, a lot of your challenges and issues, you think they're just you," said Hall, who also has a new show called Chasing Flavors on Discovery Channel coming soon. "When you have those conversations and a forum, you're like, oh, wait, it's not just me, other people are having the same challenges. And so you don't feel as alone."
As I munch on my vegan burger, more women begin to make their way to the Food Truck Village, stopping to dance in front of the DJ table, where Rihanna is blasting, just as the sun finally decides to make a full appearance.
Saturday, May 7, 2022 | Nighttime
The traffic leading to State Farm Arena, where Mary J. Blige is set to perform for a sold out crowd, is terrible. But once I get inside, the long wait and the evening drizzle are long forgotten. If the energy earlier today at the Summit was buzzing, it's on fire inside the arena. Maybe it's because everyone is happy to be out after two years of COVID. Maybe it's because when a bunch of women gather, no matter what the occasion, it's special. Or maybe it's just because everybody just loves Mary J. Blige.
There's no one like Mary. She's a unique artist who bridges generations and crosses demographics. Whatever niche group you consider yourself to be a part of, you rock with Mary. And as I look around, the place is on fire!
After dazzling performances from City Girls, Xscape and one of the greatest voices of our time, Chaka Khan (who still killed it despite ongoing sound issues), Mary finally hits the stage around 11:30 p.m. When the familiar thump of one of her fan favorites,"I Can Love You" floods the arena, the already animated crowd loses it. Mary was later joined on stage by surprise guest Method Man for their classic, "I'll Be There For You/You're All I Need," along with Usher (who performed the jamming "Need Love" from Blige's latest album Good Morning Gorgeous as well as his hit "Bad Girls"). Ella Mai and Summer Walker also popped on stage.  It's a fitting way to cap off a day where the sole purpose was to feed the mind, body and now spirit in the name of self-love.
Sunday, May 8, 2022
Today is Mother's Day, (shout out to all the moms) and it's the conclusion to one amazing weekend. Today is the last day of the festival and summit and things culminate with a gospel brunch at one of Atlanta's most popular intimate venues, City Winery.  Gospel stars Kierra Sheard and Leandria Johnson performed at the sold out event, but it was Mary J.'s emotional words to the crowd that resonated the most.
"This festival belongs to me, y'all." And if her career is any indication of its continued success, next year's is likely to be just memorable.
---
Jacinta Howard is a freelance journalist based in Atlanta.