'Keep Praying For Me': Damar Hamlin Thankful In First Instagram Post
All NFL teams to sport 'Love for Damar 3' shirts, Commissioner Roger Goddell says.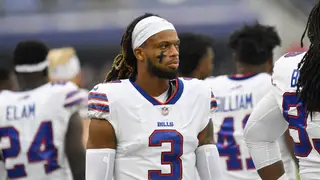 It's been nearly a week since Buffalo Bills safety Damar Hamlin's traumatic on-field collapse, sending shockwaves around the nation.
But on Saturday (Jan. 7), the 24-year-old University of Pittsburgh standout reached out to fans via Instagram to express his gratitude for their outpouring of support and asked them to continue praying for him.
"When you put real love out into the world it comes back to you 3x's as much," he said in the heartfelt caption. "The Love has been overwhelming, but I'm thankful for every single person that prayed for me and reached out. We brung the world back together behind this. "If you know me you know this only gone make me stronger. On a long road keep praying for me!"
He took a tough tackle to the chest during a game against the Cincinnati Bengals on (Jan. 2), stood up, then immediately collapsed to the ground. He received CPR for a total of 10 minutes before being transported to the University of Cincinnati Medical Center in critical condition.
Hamlin has received an outpour of support from the National Football League as week 18 of the season is underway.
On Saturday (Jan. 7), Commissioner Roger Goodell announced that all 32 NFL teams – including players and coaches – will sport "Love for Damar 3" t-shirts during pre-game warm-ups, in efforts of "league-wide show of support for Damar."
"Damar Hamlin's inspiring progress over the past few days has lifted the spirits of the entire NFL and football fans across the country," Goodell wrote in a social media post. "Seeing the entire NFL family — teams, players, coaches, and fans like you — band together was yet another reminder that football is family: human, loving and resilient."
Hamlin has made significant progress during the road to recovery. Now breathing on his own, he's been chatting with his friends and family and even a video call with teammates on Friday (Jan. 6).