Opinion: Damar Hamlin's Story Is Not Unlike Many Others Who Seek Greatness In Sports
The scene at Monday night's game left many shocked but those who step on the field of play were reminded of the risks.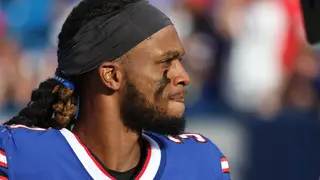 As a nationwide audience watched Buffalo Bills safety Damar Hamlin being carted from the football field to the hospital in an ambulance during the Monday Night Football game against the Cincinnati Bengals, it took me back to one of the most impactful conversations I ever had with a former football player.
It was a reminder of how fortunate I've been.
In the late 2000's, I ran into Craig Ochs, who played quarterback for the University of Colorado and the University of Montana, and later for the San Diego Chargers and the Bills. With both of us playing football for Colorado, but at different times, we talked briefly about our careers on the gridiron. Before we left, he asked me how I was doing physically after leaving the game. I told him of my minor injuries, but overall, I was in good shape. That's when he told me those chilling words as he departed.
"Consider yourself one of the lucky ones."
Ochs suffered three concussions in one year while playing for Colorado. A later series of injuries led to his retirement from playing. This is one of the many risks athletes take every time they lace up the cleats or step on the court, and even parents know it. Concussions was ranked as the No.1 injury concern for all parents, according to a 2018 survey conducted by the Hospital for Special Surgery and Aspen Institute.
Sports in and of itself is not the issue. It's the expectations placed on every teen who plays under the Friday Night Lights that are unrealistic. Young men and women are often expected to push their bodies past their physical limit and ignore lingering injuries in hopes of achieving pro dreams or earning a coveted college scholarship. This is especially true when it comes to Black boys and girls who aspire to that level of athletic greatness.
It's the risk, reward proposition staring at 42.4 percent of Black teens aged 13 through 17 who played a sport on a regular basis in 2021, according to Project Play from the Aspen Institute. Chasing one of more than 180,000 athletic scholarships often involves traveling to camps, playing in tournaments, and investing in specialized one-on-one coaching to improve as an athlete. The odds of getting an athletic scholarship is low as fewer than two percent of high school student-athletes are offered one. But, if you get one, you can truly…
"Consider yourself one of the lucky ones."
That's what Hamlin was able to achieve as a top-rated defensive player out of Pennsylvania.  He earned a scholarship with the Pittsburgh Panthers where he was named as a second-team an All-ACC safety his redshirt-senior season. Drafted in the sixth-round of the 2021 NFL Draft, Hamlin became one of the 1.6 percent of the NCAA players to go pro.
Making it to the NFL is one thing, staying there is a difficult task altogether. The average length of a player's career in the NFL is 3.3 years. Hamlin's critical injury came in his second season and is a reminder of the saying that any play could truly be your last in a contact sport where injuries are all but guaranteed.
Athletes have to understand that excelling in sports should be used as a bridge towards continued success in other professions and only a few are able to use that bridge to build any generational wealth from the game. Young athletes need to have a plan in mind to excel once the game ends for good, whether it's in high school, college, or the pros.
Fortunately, Hamlin has improved greatly in the hospital since Monday night. In a Twitter post, the Bills said Friday (Jan. 6) that his breathing tube has been removed and he can talk to his family and medical staff reflecting an upward trajectory in his health.
Doctors at University of Cincinnati Medical Center said in one of his messages he wrote on Thursday, while still intubated: "Who won the game?" The doctors answered, "Yes. You won in the game of life."
"Consider yourself one of the lucky ones."
Justin Adams is an Emmy nominated News and Sports Anchor/Reporter for CBS News Colorado in Denver. He is also a Play by Play Announcer for the Pac-12 Network and Mountain West Network and has appeared on FOX Sports Radio.