A$AP Rocky Apologizes to 'Sweetheart' He Jumped Over Ahead of Met Gala
The "Peso" rapper went viral after a clip showed him using fans to jump over a barricade.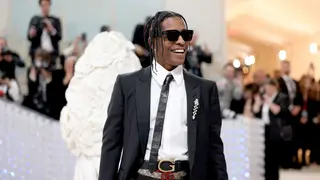 With another Met gala in the rearview, rapper and this year's attendee A$AP Rocky is smoothing things over with the woman he trampled in a sea of eagerly waiting fans while trying to get into his hotel ahead of the annual fashion and art event.
The "Peso" emcee, born Rakim Athelaston Mayers, took to his Twitter account just one after the fundraising bash held in New York City, where he issued an apology to Madelyn Llanes, writing "LOL MY FAULT $WEETHEART," referencing the same term of endearment he called the fan before he used her shoulder to host himself up and over a barricade outside the crowded hotel.
The woman recently told reporters "He said: 'Sweetheart, I need to get through,' and I just told him 'no' because the barricade was right in front of me, there wasn't really anywhere to go."
Rocky arrived wearing an all-black ensemble making it difficult for fans to spot him. Once he did make his way over, he thanked Llanes and another man forced in the same situation before flipping them off. "He went inside, and that's when I fully realized it was him," she added.
The "F**kin' Problems" rapper was getting prepared to accompany girlfriend Rihanna at the May 1 shindig honoring the work of late German fashion designer Karl Lagerfeld with its theme, "Karl Lagerfeld: A Line of Beauty."