Woman Involved in A$AP Rocky's MET Gala Shoving Incident Speaks Out
The New York emcee arrived fashionably late to this year's event.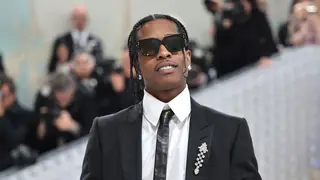 Rapper A$AP Rocky caused quite a bit of a stir ahead of his grand appearance at the 2023 MET Gala alongside his girlfriend and the evening's showstopper, Rihanna. The "L$D" emcee was seemingly involved in a shoving incident when he was making his way through a sea of screaming fans standing outside of his hotel room in New York City earlier that day.
In a video that has since gone viral, the Harlem native, born Rakim Athelaston Mayers, could be seen wearing an all-black outfit, including a hoodie and a pair of dark shades. The 34-year-old then jumps over the barricade, but not before using the shoulder of a nearby, and visibly annoyed woman, to raise himself up.
Before going inside, the "Praise the Lord" rapper turned to the crowd and removed his hood to show his face, triggering sheer pandemonium. The moment garnered tons of reactions on social media, including the woman in the clip, who was later identified as 21-year-old Madelyn Llanes, 21, from Long Island, New York.
Llanes told The Independent in a recent interview that she "turned around and saw that it was him, but my brain didn't fully comprehend that it was him." She added, "He said: 'Sweetheart, I need to get through,' and I just told him 'no' because the barricade was right in front of me, there wasn't really anywhere to go."
She continued, "He just pushed his way up and then hopped over and grabbed me and the guy next to me as he did. After he hopped over, he was like, 'thank you,' and then just laughed and flipped me off, and then he went inside, and that's when I fully realized it was him."
The "Peso" emcee and Rihanna ultimately arrived fashionably late to the event but still managed to steal the show. Rocky paid homage to designer and this year's theme, Karl Lagerfeld, wearing a red tartan kilt over a pair of baggy embellished jeans. Eh rocked a tailored blazer, a button-down shirt, and a black tie.
The rapper has not addressed the situation.