When Economy Dips, Blacks Get 'Blacker,' Study Says
A new study from New York University tested economic scarcity on racial perceptions.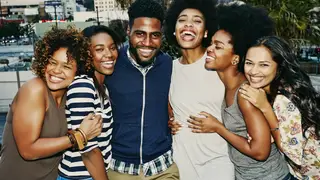 As the economy sags, African-Americans might appear "blacker" and more likely to align with racial stereotypes, according to a psychology study at New York University published in the journal Proceedings of the National Academy of Sciences.
The study finds that gaps in socio-economic status between whites and minorities translate into a visual representation.
David Amodio, senior author of the study, said "our findings indicate that scarcity changes the way that the people visually perceive another person's race, and that this perceptual distortion can contribute to disparities."
Co-author Amy Krosch explained that an involuntary bias arises due to economic factors altering perceptions of race.
Krosch and Amodio used male and female non-Black participants to test if resource scarcity could influence racial perceptions.
The test began with a questionnaire regarding economic competition between Blacks and whites and continued into a presentation of faces ranging from 100 percent white to 100 percent Black and these people were asked to state which race each image represented.
The results showed that participants that saw an economic competition between the two races saw mixed race faces with a lower threshold than those that don't hold this view.
The researchers conducted a second experiment, with a different group, to test the effects of scarcity on race perceptions.
For this test, the same images were shown, but this time subliminal messages were flashed in between. These flashes were words related to scarcity. Some words were neutral and some were negative and unrelated to scarcity.
The test showed that the participants exposed to the words involving "scarcity" were more likely to see a face as "black" than the participants exposed to neutral or negative words (an image with 35 percent Black features rather than an image with 43 percent Black features).
Later, two experiments were conducted to see if these perceptions made people see Blacks as "blacker" and more stereotypical.
"It is well known that socioeconomic disparities between White Americans and racial minorities expand dramatically under conditions of economic scarcity," Amodio said.
BET National News - Keep up to date with breaking news stories from around the nation, including headlines from the hip hop and entertainment world. Click here to subscribe to our newsletter.
(Photo: Peathegee Inc/Blend Images/Corbis)