Shaquille O'Neal Buys 15-Passenger Van, Truck For Large Family Then Takes Them Out To Dinner
The mother of 11 told her story of the charitable deed via social media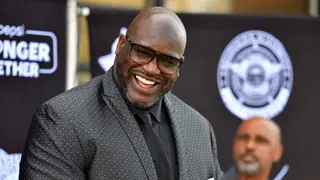 Shaquille O'Neal is known for his philanthropy, but he often likes to get personally involved in changing people's lives.
The NBA Hall of Famer's latest charitable effort involves a family of 11, whom he reportedly purchased a 15-passenger van and truck for in the midst of also taking them out to dinner.
The Instagram account @TheCollinsKids told the story in a new post. In the caption, the family says O'Neal "blessed us like never before."
"Last night we had a surprise visit from Shaq," the post, which features pictures of Shaq with the family in various locations, reads. "He took us to dinner as a family at babes chicken. It was so much fun just to hang out and eat dinner with him."
Afterward, the post says O'Neal took them to the Mercedes dealership to get them a 15-passenger van, which came in handy considering the one they had was smaller and had faulty air conditioning.
If that wasn't enough, the family revealed that O'Neal took them out for another meal, paid for another table's entire banquet, and tipped the waitress $1,000 after her car broke down. And that's not even where it ended.
"Then when he saw my husband's truck that has been without air-conditioning and heat for a while, he took us to a Ford dealership and blessed us with another truck," the family wrote in the caption. "He also spent time encouraging us and loving on our children and speaking life into our family. I am completely lost for words."
This latest series of events involving The Diesel comes after he revealed earlier this month that he has to "bless somebody" every time he sees someone in need.