Deion Sanders' Daughter Apologizes For 'Exaggerated' Comments About 'Murders' At Jackson State University
Deiondra Sanders said in a podcast that there were frequent murders and other crimes on and off the Mississippi campus.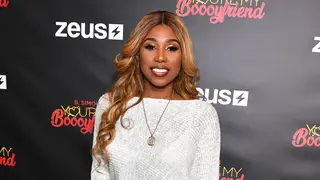 Deiondra Sanders, daughter of former Jackson State football head coach Deion Sanders, apologized Sunday (Jan. 22) for comments exaggerating about murders and other safety concerns on the HBCU campus in Jackson, Miss.
"I do feel that I exaggerated due to the fact that every time I did come to town I was made aware of shootings, murders and robberies on campus, around the campus, and in the city," Sanders said in a video posted on Twitter.
She continued: "I really do apologize for what I said. It's just that it did happen while my family was there that the public was not made aware of. But, I should not have exaggerated like that and I do apologize to the whole JSU community and JSU campus and everybody who is part of JSU."
The apology stems from comments she made on The Baller Alert Show. Sanders was asked on the podcast if she supported her father's unexpected announcement in December to step down as head coach to take his talents to the University of Colorado.
"People don't know that it's more than football in Jackson," she responded. "When my dad makes a decision, he thinks about all the aspects of his kids. People have to realize that he also had kids who went to that school. People don't know that it's killings on the campus every few months. People are breaking into the locker rooms and stealing from the students. My dad gives back to the community, but what is the community doing?"
It's unclear exactly what she was referring to in her remarks about frequent murders and other crimes. However, there was a campus homicide on Dec. 2, local station WLBT reported at that time. Flynn Brown, a 22-year JSU student from New Jersey, was shot and found inside a vehicle. The Mississippi Bureau of Investigation arrested Randall Smith, 20. Investigators believe an argument led to the shooting. Smith has claimed self-defense.
"Coach Prime," as Deion Sanders, a retired NFL star, was known, announced on Dec. 3 that he's leaving JSU before his head coaching contract is finished – a move that would cost him about $300,000 to buy out his contract.
His decision to leave the Black institution for predominantly White Colorado ignited controversy in which some people called him a sellout.
Deiondra, 30, is the eldest of Deion Sanders' five children, according to the Jackson Clarion-Ledger. Two of Sanders' sons, Shilo and Shedeur, played football at JSU while their father coached there.