Vince Staples Snags Lead Role For 'The Wood' Revival Headed To Showtime
'The Wood' spin-off was initially greenlit by showtime back in August 2021.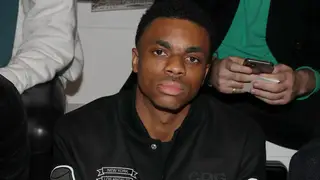 Showtime has officially revealed the main cast of their comedy spin-off "The Wood".
According to Variety, hip-hop artist Vince Staples joins actors Xavier Mills, Karen Obilom, Melvin Gregg, and Essence Renae to star in the pilot episode. The new cast will work alongside Richard T. Jones and Tamala Jones who are set to come back as their original characters, Slim and Tanya, from the classic film.
Rick Famuyiwa who served as the writer and director of the original film in 1999, will return to direct and produce the pilot.
The fresh take on the movie is described as an honest look at friendship and dating from the perspective of three young Black males born and raised in the gentrifying L.A. suburb of Inglewood, Deadline notes.
Staples will be taking the role of Jamal, a young adult with dreams to one day land it big in the photography industry despite his family wanting him to attend Morehouse College.
Mills, who will play Dame, is labeled as a "sheep in wolf's clothing" who is educated and ambitious but dealing with day-to-day life struggles.
Obilom, who also stars in BET's Games People Play, will take on the role of Brielle, an engineer who is determined to give herself a better life from her humble beginnings.
Gregg will play Shawn, a card reseller who specializes in Pokémon, and is struggling with the decision to stay down for his friends or shift his focus to make his current relationship work with Renae's Ashley.
Rounding out the cast, Renae stars as Ashley, a rising fashion designer who is also the mother of Shawn's daughter, who is learning to balance her budding professional life and the ins and outs of her personal life.
As well as writing the pilot, Justin Hillian serves as executive producer with Famuyiwa. Production is currently taking place in Inglewood, CA.
The Wood spin-off was initially greenlit by showtime back in August 2021.