Sorority Sisters: Michelle Obama and Laura Bush Bond in Tanzania
Michelle Obama and Laura Bush discuss the challenges and rewards of being a first lady at Tanzanian summit.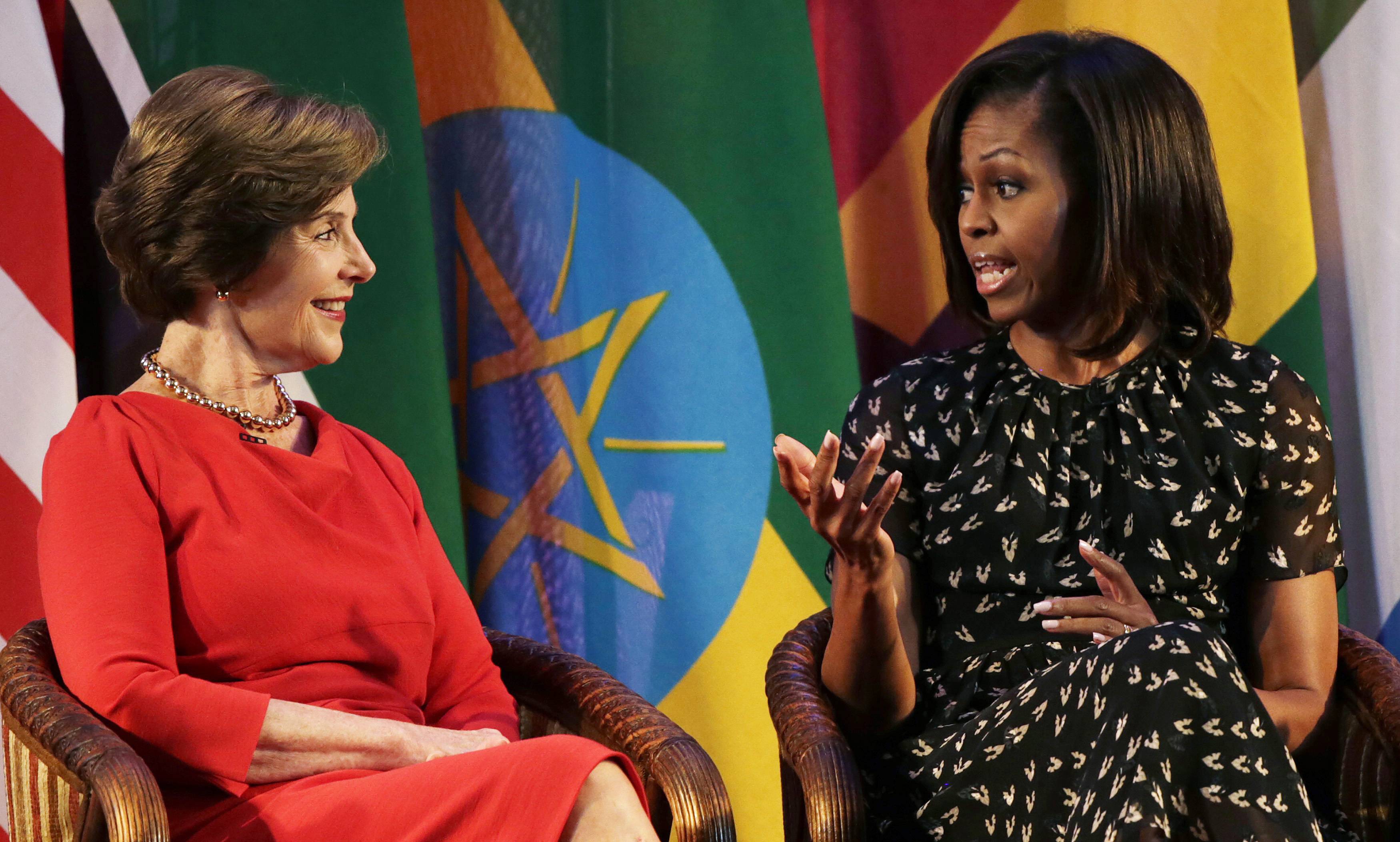 First Lady Michelle Obama and predecessor Laura Bush don't see each other very often, but if their Tuesday meeting in Dar Es Salaam, Tanzania, is any indication, when they do it's just like old times. Like longtime BFFs, they sometimes even finished each other's sentences. Bush said their bond is like a "sorority."
During a Bush Institute-sponsored African First Ladies Summit, Obama and Bush discussed the challenges and benefits that come with their roles. Both agreed that compared to their husbands, they have the better deal.
"We get to work on what we're passionate about. And I think that that's something that I would encourage all first ladies to never lose sight of," Obama said. "You have an opportunity to speak to your passions and to really design and be very strategic about the issues you care most about. And I just found it just a very freeing and liberating opportunity."
Her statement led moderator Cokie Roberts, an NPR contributor, to reference a letter written by America's first first lady, Martha Washington, in which she compared living in the White House to being a "chief state prisoner."
"There are prison elements to it," Obama said, eliciting laughter. "But it's a really nice prison."
Joking aside, Obama said that being able to pursue passions enables first ladies to help the U.S. and to connect with the rest of the world is a privilege.
Obama and Bush both lamented the attention sometimes paid to a first lady's looks, but advised their African counterparts to ignore such distractions and stand strong by the issues they're promoting.
"While people are sorting through our shoes and our hair and whether we cut it and whether we have bangs. Who would have thought? I didn't call that one," Obama said. "We take our bangs and we stand in front of important things that the world needs to see, and eventually people stop looking at the bangs and they start looking at what we are standing in front of."
BET Global News - Your source for Black news from around the world, including international politics, health and human rights, the latest celebrity news and more. Click here to subscribe to our newsletter.
(Photo: REUTERS/Gary Cameron)