R. Kelly Sues US Prison Bureau For Allegedly Leaking Private Info to YouTube Host Tasha K
The disgraced R&B singer claims that the feds illegally shared his "sensitive" information with the social media personality.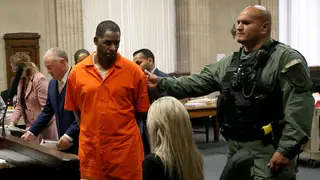 R. Kelly has levied a lawsuit at the prison bureau for allegedly releasing his private information to social media personality Tasha K.
According to Kelly's attorneys filed the complaint on Nov. 13 (Monday) claiming that recordings of phone calls with his girlfriend and lawyers were accessed and sold to Tasha who shared them on her social media platforms.
The lawsuit accused Tasha K (Latasha Kebe), also named as a defendant, of harnessing her "massive following to harass the plaintiff with the use of the stolen information and created chaos in the plaintiff's personal life."
"The defendant United States of America breached its duty of care to the plaintiff when it allowed countless BOP officers to access the plaintiff's confidential information without any legal basis to do so," Jennifer Bonjean, Kelly's lawyer wrote in the suit.
According to the suit, the leaks caused Kelly to be "isolated and fearful to communicate with his attorneys or other third parties," because he knew it could be "released to the general public for mass exploitation."
In the complaint, Kelly accused Tasha K of publishing his private information to her followers beginning in November 2019, with a video she titled  "R. Kelly Can't Control his Girlfriends while Behind Bars" In the video, Tasha K said she retrieved the information from a "phone tap somewhere" and her subsequent post reportedly revealed more of Kelly's personal information such as highly-sensitive communications with his legal advisors.
"The communications … related to personal and family problems, romantic interests, health problems, literacy issues, and issues related to the defense of his pending criminal cases," the complaint reads.
Neither Kelly and Tasha K are strangers to the court system.
Kelly, a grammy-winning R&B singer whose music once topped the charts, is currently serving 30 years in prison following his conviction of racketeering and sex crimes.
In April 2022, Tasha K was ordered to pay up to $4 million in damages and attorney's fees after rapper Cardi B successfully sued her for defamation, invasion of privacy, and intentional infliction of emotional distress.