Black Sherif Is A Renaissance Man At The Cusp Of International Stardom
The Ghanaian multi genre artist may be young, but his music is already far-reaching.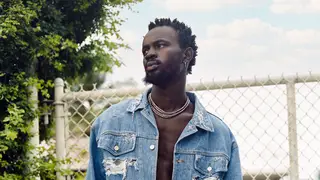 Black Sherif is an artist without a genre to call home. And that's perfectly fine for him.
The Konongo, Ghana native is 21 years old and has only been recording music over the past three years and some change. But the limited experience isn't keeping him from traveling the world, experiencing life, and relaying his experiences to people in Africa and globally.
Last October, Sherif released his debut album The Villain I Never Was – a 14-track LP full of stories about his life up until the present day, but void of any features outside of Nigerian superstar Burna Boy who appeared on the remix of the project's final song "Second Sermon". The lack of features, though, was intentional as the young artist wanted to present his story in a very open and honest manner.
"It's always been in my head that my first album I would love to be very vulnerable and real and raw and I felt like I [should] just put out my story and see what it means to that and see who it impacts," Black Sherif told BET.com during a recent interview. "My plan was to like go solo on it because I felt like I could tell my story much better than anyone and be very vulnerable so I can listen to it again and feel myself like how I was like years from now. I would love to listen again and I feel the same hunger, same thing to get smarter."
Sherif's music is a meshing of hip-hop, UK drill, reggae and his native highlife, which is appropriate, considering his early sonic influences. Growing up, Sherif says he listened to all types of musical genres and it inspired him to create beyond the typical boundaries of one single sound.
"I grew up on people that love to play with genres. So like, there was more different genres because I was listening to anything, so I felt like anything could work," he describes. "You just have to focus. I don't think there's really this kind of structure, you just have to create something that makes sense. If I get drill beats – what other people do with drill beats – I don't conform to that. I want to do my thing. If I get reggae, I want to do my thing, so I feel like anything can work."
Included on Sherif's debut album is the single "Kwaku the Traveller", which has since debuted at No. 1 on the Nigeria TurnTable Top 50 chart and No. 5 on the Billboard U.S. Afrobeats Songs Chart. The song is a prime example of the vulnerability Sherif notes, particularly the standout bar, "Of course I f****d up. Who never f**k up? / Hands in the air, no hands? / I was young, what you expect from me? It is what it is." The whole thing is an anthem for anyone attempting to make a way for themselves, but also the astute recognition of the struggles it takes to achieve one's goal.
"Songs like 'Kwaku the Traveller' inspire me a lot because it's crazy like thinking how I made it, how small we made it in like just a single room," he explains. "How small we created it and how big of an impact it has had, it makes me believe more in the art I'm doing right now because I feel like then it's not really small like how we do. Music is spiritual. It makes me see parts more than just doing arts."
Overall, Sherif says his debut LP is a culmination of the experiences he's had from traveling all over the world mixed with the lessons he's learned in the short amount of time he's been recording music.
"In some ways it was an experimental album and I had like my everything in it. Whatever energy I put inside it, I was 100 percent confident about everything I was doing," he says. "It was just documenting whatever was happening to me because literally that is what was coming out there – talking about what was happening to me. It was just documenting and writing on highlights in my personal life and memorable stuff that I've learned so much from like turning them into motivational quotes, but making music, making art out of them."
That message also plays itself out on Sherif's song "Run", which was featured on Empire's African compilation Where We Come From (Vol. 1). Again, a very personal cut, but one that marked an organic bonding between the singer/rapper and his instrumentalists and producers.
"It was always nice creating that song," Sherif notes. "I think that was like the first time we all came together for something like that because sometimes I'll just make the song with [Joker Nharnah] and later the complete things… I love that song. I love the message."
Releasing music isn't simply where Black Sherif wants his impact to cease. Performing is also a strong suit of his, which is evident in his March 2022 3Music Awards performance of "Kwaku the Traveller", during which water poured on him for minutes.
"I got contacted by the organizers of the awards show and they were like, 'We have this plan of doing something great for this, something like no one's done it [before] for this year's show," Sherif remembers. "Can you play some sounds?' And I was like yeah, I have a sound that you love you love. So I just sent it and I knew they were gonna get it because I had just recorded a song like three weeks ago before that. So they listen to the song and get back to me like, 'Yo, so we love the song. So when can we meet and share ideas of how we want to get this because we really want to make that [song] it?' So I met them with my team, we planned everything out, and I flew to Nigeria."
Black Sherif is an extraordinarily well-traveled and cultured creative who is part of a larger movement in Africa catching the world's attention. He's still 21 though, so the dreams and his influence have only just begun.
"It's so inspiring because sometimes it feels like it happens so fast because I got into music right after high school in 2019. Three years later, going from where I'm from, Konongo, to Accra and getting my music outside Accra, Ghana to Lagos, UK, USA, stuff like that," he says. "It's so inspiring in that it makes me want to do more because sometimes I feel like I'm new to this. I'm not even 10 percent into what I can do and the message is spreading across [the world]. That's where all the inspiration comes from."
Check out Black Sherif's newest video "Konongo Zongo" below.