Florida College Board Revises AP African American Studies Curriculum And Adds 'Black Conservatism'
Respected authors like Alice Walker and Ta-Nehisi Coates were cut from the syllabus.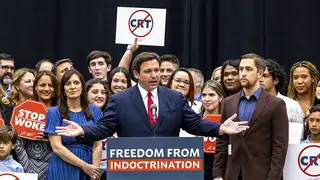 Last month, Florida Gov. Ron DeSantis rejected an optional Advanced Placement American Studies Course for high schoolers in his state. Now, the College Board, the nonprofit which oversees Advanced Placement courses, has revised the courses, slashing several Black scholars and authors but making other additions.
The New York Times reports many authors or scholars "associated with critical race theory, the queer experience and Black feminism" were cut. Some writers reportedly cut are Alice Walker, bell hooks, Michelle Alexander and Ta-Nehisi Coates.
However, one addition, The New York Times reports, was Black conservatism, which will be offered as a research project.
David Blight, a professor of history and African American studies at Yale University, told NBC News about the revised syllabus, "I am now disappointed to learn that a major section on the end of this curriculum was removed from an earlier version."
He also added, "I support the course as a creation of academic freedom. It took a lot of people to create this half-century tradition of African American studies and students in every state. ... No legislature, governor, or school board has the right to simply cancel it and stand in the way."
DeSantis has been a leading Republican voice opposing Critical Race Theory (CRT), a college-level academic framework to analyze systemic racism that is not taught at elementary or secondary schools. Under his leadership, the Republican-dominated state legislature passed a measure dubbed the "Stop WOKE Act,'' which the governor signed into law last April. It restricts how race is discussed in public schools, colleges, and workplaces.