Justice Department Adjusts Longstanding Drug Policy On Crack, Powder Cocaine To End Racial Disparities
'This policy has ruined homes and futures for over a generation,' says Al Sharpton.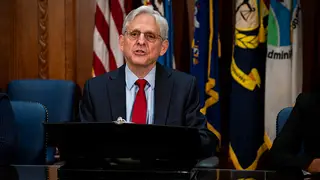 For decades, civil rights activists have demanded an end to the sentencing disparity between crack and powder cocaine that have targeted the Black community for mass incarceration in the so-called War on Drugs.
A recent Department of Justice announcement could signal a turning point as Senate lawmakers try to hammer out a deal to ensure a permanent change.
In a memo, Attorney General Merrick Garland instructed federal prosecutors on Friday (Dec. 16) to end charging and sentencing disparities in cases involving crack and powder cocaine.
Federal law enforcement policy for decades called for disproportionately higher punishment for crack offenders, who are predominantly Black. Supporters argue that the disparity is warranted because crack in smaller amounts is more addictive than powder cocaine.
However, the crack and powder disparity "is simply not supported by science," Garland stated in the memo, adding that "they are two forms of the same drug, with powder readily convertible into crack cocaine."
The attorney general also noted that the U.S. Sentencing Commission found that the crack/powder distinction "is still responsible for unwarranted racial disparities in sentencing."
Civil rights leader Rev. Al Sharpton said he was "pleased" to learn about the policy change on an issue that he led marches on in the 1990s.
"The racial disparities of this policy have ruined homes and futures for over a generation. I salute Attorney General Garland for taking this major step toward equality and fairness," tweeted Sharpton, who is also the founder and CEO of the National Action Network.
Someone convicted of possessing 28 grams of crack cocaine faces a mandatory five-year prison sentence under current federal law, according to The New York Times. It takes nearly 20 times that amount in powder cocaine to trigger the same five-year minimum sentence.
"This policy is critically overdue, and it follows decades of law enforcement officials targeting Black communities with policies that result in Black Americans receiving harsher sentences and fueling mass incarceration," the NAACP Legal Defense Fund President and Director-Counsel Janai Nelson stated.
"The disparity—which was originally 100:1 and decreased to 18:1 in 2010—has had tremendously harmful consequences for the lives of Black people, their families, and communities," Nelson continued.
A 2022 U.S. Sentencing Commission report shows that Black people account for 78 percent of those convicted of trafficking crack, compared to 25 percent of those convicted of trafficking powder cocaine.
"This has been one of the policies that has sent thousands and thousands of predominantly Black men to the federal prison system," Janos Marton, vice-president of political strategy with the group Dream.org., told the Associated Press. "And that's been devastating for communities and for families."
Marton warned that the change could be temporary unless Congress passes legislation to permanently revise sentencing guidelines.
The House passed bipartisan legislation in a 361-66 vote in September 2021 to permanently end the sentencing disparities between crack and powder cocaine. The bill, named the EQUAL Act (Eliminating a Quantifiably Unjust Application of the Law), is under consideration in the Senate.
Senators are working on passing the bill before the end of 2022 as part of a larger omnibus funding package, The Hill reports. Senate Majority Leader Charles Schumer told the news outlet that lawmakers are "making good progress."
But Iowa Sen. Chuck Grassley, the top Republican on the Senate Judiciary Committee, said Garland's new sentencing guidelines have thrown a wrench into negotiations because it disregards current law, the AP reported.
The sentencing disparity came into effect in the late 1980s when the crack epidemic and drug gang wars began to devastate communities. According to the AP, the death of Boston Celtics draftee Len Bias of a cocaine-induced heart attack contributed to Congress passing the Anti-Drug Abuse Act of 1986. It imposed harsher mandatory federal sentences for crack trafficking compared to powder cocaine. The passage of the legislation led to mass Black incarceration, which critics have long said unfairly targeted the African American community.