Video Surfaces of Ex-NFL Wide Receiver Antonio Brown Allegedly Baring It All In Hotel Pool In Dubai
Brown says the woman in the video swam off with his swim trunks.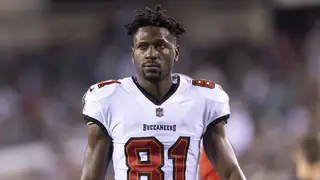 A video of former NFL wide receiver Antonio Brown reportedly exposing himself to a female guest at a hotel in Dubai has surfaced.
Although The New York Post revealed that the incident happened at the Armani Hotel in May, footage has now gone viral. The troubled athlete appeared to moon a woman in the video. Brown is also accused of flashing his junk at the woman.
No Jumper posted the shocking video on October 1. Initially, the woman appeared to be frolicking in the pool with Brown. The situation took a turn for the worse when the ex-athlete picked the woman up and slammed her into the water.
"Eyewitnesses said Brown had just met the woman, and she was fuming after the encounter," the Post revealed in the aftermath.
Brown responded to the leaked footage on Twitter.
"Every chance they get to sway the heat off themselves, they use me. In the video, you can clearly see she runs off with my swim trunks. If roles were reversed the headlines would read 'AB having a wild night with nude female'. Yet when it's me, it automatically becomes a hate crime."
Brown was eventually booted from the hotel in Dubai.