Reclaiming Your Vote
The National Urban League ramps up outreach to Black voters ahead of 2022 midterm elections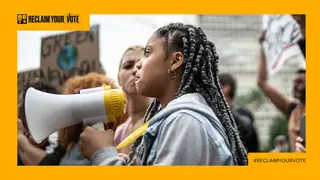 With the U.S. midterm elections less than two months away, nationwide efforts to get voters to the polls have been accelerating as advocacy groups try to capitalize on the historic turnout of the 2020 presidential election.  The National Urban League, one of the oldest civil rights organizations in the country, has launched a field campaign that will be its largest midterm "get out the vote" initiative in the organization's modern-day history.
"The circumstances of 2020 were unique, but in my view, 2022 is an extension of 2020. The same issues, the same threats, the same opportunities are at stake," the President and CEO of the National Urban League, Marc Morial, told BET News.
The National Urban League has partnered with BET to amplify their outreach as part of the #ReclaimYourVote 2022 campaign which aims to motivate and encourage voters to cast their ballots in the upcoming election through partnerships with several civic participation groups.
Morial says the National Urban League will utilize its network of 92 affiliates in 37 states to register new voters, with targeted registration in six key states including Florida, Georgia, North Carolina, Pennsylvania, Michigan, and Wisconsin.
"We've got to make sure people vote," said Morial who also emphasized that the expansive campaign for this year's election was born out of necessity.
"Democracy is under attack. January 6th and the actions of legislatures all across the nation continue to signal and remind us of that," said Morial, who added, "And too much is on the line."
According to U.S. Census data, 155 million people voted in the 2020 presidential election, and voter participation increased across race and gender demographics, including among Black voters.
Census data also found that a majority of voters utilized non-traditional methods, mail-in ballots or early voting, due to the health concerns brought on by the COVID-19 pandemic. Non-traditional voting methods increased by nearly 30% in 2020 from the previous presidential election.
Despite a majority of voters using mail-in or early voting options to cast their ballot in 2020, The National Urban League found that at least 19 states passed laws last year to restrict voter access and 49 states introduced hundreds of restrictive voting rights laws. In its 2022 State of Black America report, the organization lists measures that have been introduced or enacted to make it more difficult for voters to access non-traditional voting methods including requiring voter ID for mail-in ballots and stricter signature matching requirements.
"Fueled by 'The Big Lie,' that there was mass voter fraud in the 2020 election," the report reads, "state legislatures are restricting voting access in districts with large populations of African Americans and other people of color." The report also states that recent voter suppression efforts amount to "the most significant legislative assault on voting rights since Reconstruction."
Morial says that this year's campaign focus really refers to the fact that the Black vote has been threatened and The National Urban League will use every tool available, from traditional door knocking and rallies to texting and digital technology to encourage voters to "reclaim" it.
Additionally, the organization has been advocating to advance legislation to counter laws and ballot measures aimed at limiting voter registration and participation. It also recently declared a state of emergency on American democracy, in conjunction with other civil rights organizations.
Morial says Black voters have several issues they are concerned about including police community relations, raising the minimum wage, and gun violence. With the goal of reaching over two million voters by Election Day, Morial says he not only hopes the organization can successfully combat voter suppression measures, but also voter apathy.
"We've got to make sure they're not going to be tricked into not voting because we are upset, or we are frustrated. Pessimism is not a strategy. Frustration is not a tactic. Disappointment does not get you outcomes."
The organization's immediate target is two nationwide voter registration drives "National Black Voter Day" and "National Voter Registration Day." There will also be a focus on youth voters with neighbor to neighbor and peer to peer conversations about key issues.
With the #ReclaimYourVote 2022 initiative, the National Urban League is aiming to reach as many voters as possible through text, email, phone, and personal contact.
"We want the highest black voter turnout that we've had in a midterm election," said Morial, "and that is our goal."
The National Urban League is encouraging your participation in the #ReclaimYourVote 2022 campaign with action items including checking your voting registration status, having a clear understanding of voter ID laws in your state, familiarizing yourself with polling locations in your district, developing an advanced plan for voting that accounts for long lines and polling station hours, and voting in every election.
Visit vote.gov to register to vote, check your registration status, and find voter registration deadlines.