10 Things You Should Know About Kanye West's New Album, 'Donda'
This latest musical exploration will be his 10th album and launches on Friday, July 23.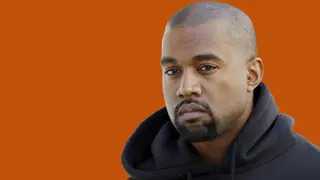 Enigmatic. Genius. Controversial. However you'd describe 22-time Grammy winner, Kanye West, we can all agree he is someone who cannot be  overlooked. Whether it be antics, music or a hybrid of both, even if you wanted, it almost feels as if there's a cultural obligation to check on what the 44-year-old father of three is up to. This time it's his 10th studio album, Donda, and all signs are leading to no pump fakes. 
Set to be released on Friday (July 23rd), it's the follow up to his 2019 Grammy award-winning gospel-themed album, Jesus is King and has seemingly received nothing but high praise from the exclusive club of folks who have had the privilege of hearing it before its official debut at a listening party scheduled for Thursday (July 22) at the Mercedes-Benz Stadium in Atlanta. 
Those of you who only know West through his wife's family may be wondering about the origin of the title of this latest project or perhaps why he hasn't said a word this entire year about this album. Here are 10 answers to these and your other burning questions about Kanye West's upcoming album, Donda.
Donda Is The Name of His Late Mother

Off the bat, the first thing to know about Ye's 10th studio album is that the title is an ode to his late mother, Donda West, who died at the age of 58 following plastic surgery complications in 2007. You should also know that their bond was unmistakable. From the Late Registration deep cut, "Hey Mamma" to the numerous clips of the two online, it's clear the former university professor was more than his mother and manager — she was also his best friend.

The album was once called "God's Country"

Picking the title for this album wasn't a breeze. After initially teasing the name Donda in a now-deleted tweet, West revealed in a different post that "God's Country" would be the name of the much anticipated follow up with "Wash Us In Blood" — a Dr. Dre collab with Travis Scott — as the lead-off single. But of course, in Kanye fashion, all was tinkered and redone.

Donda X Georgia

Between choosing Atlanta's massive Mercedes Benz Stadium for his album listening event and the customized Falcons throwback jersey dawning his mother's name and year she passed, you're probably wondering why Georgia has been such a focal point of this particular rollout. Well, it all ties back to his roots. Kanye West was actually born in Douglasville, Georgia. If you remember, in the song "Homecoming," he refers to "Windy," the girl he met when he was three years old — as in the city of wind; Chicago.

This album Rollout is different

Contrary to previous rollouts, this is the quietest West has ever been leading up to a release. Sporting a full mask in public, he's been, quite literally, letting others do the talking for him. Like U.S. track star Sha'Carri Richardson, for example. She starred in a Beats by Dre commercial he scored and edited which premiered his track "No Child Left Behind" during the NBA Finals this past Tuesday. Similarly, he's tapped social media talking heads like Justin Laboy who's listened to the album privately and made proclamations on Twitter stating, "The production is light years ahead of it's time."

Open To Exposing Details About His Struggles

Like many of us, West is still fighting his demons daily and it appears he might give listeners an inside look into what some of those battles have been like for him. He alluded to as much in a 2020 GQ cover feature entitled, "Inside Kanye West's Vision for the Future," where he opened up about struggling with alcoholism, telling the mag the lyrics, "Have I ever not done     anything I said I was going to do? 'I made it back from addiction, I beat the predictions, brought real to the fictions.'"

"Donda" Continues Ye's Spiritual Journey

Conceptually, you can expect Donda to have spiritual undertones similar to Jesus Is King. In the same GQ feature aforementioned above, West reveals he considered quitting hip-hop, explaining: "I rapped for the Devil so long that I didn't even know how to rap for God." It wasn't until one of his pastors told him that their son wanted a rap album about Jesus that he decided to keep going.

Return of The Expletive

If you need expletives in your life, don't be so fast to pass up on Donda. While he did say he was no longer making "secular music" and demanded everyone he has collaborated with to abstain from sex while making Jesus Is King, early listeners have reported some swearing on tomorrow's release. Some "B's and N's" to be exact.

Donda Cover Art Inspo

Much like the music, you can always expect a Kanye West album's artwork to be multi-layered and this go round is no different. The album's cover art, which appeared online Monday (July 19), is designed by French-born artist Louise Bourgeois. These pieces in particular were inspired when her mom passed away when she was just 20, harkening back to the album's title and theme. It's also very different from the original sleeve Ye tweeted in July 2020.

Rumored Features and Tracklist(s)

Because he is notorious for making last minute changes to his albums, any perceived track list can't truly be trusted until the album drops. With that being said, there has been speculation of who's been heard (and seen) with the producer/rapper. Fans who attended the listening party in Vegas reportedly put together a list of who they think may be on the album that includes the likes of Travis Scott, Lil Baby, Future, Pusha T, Playboi Carti, Tyler, the Creator, Ty Dolla $ign, and Baby Keem. Fans also seem to have captured what could be the tracklist by screen grabbing the whiteboard behind Tyler, The Creator who was in the studio with West. Although all different from what he's shared in the past.

Hear The Album Early

Even if you are in Atlanta, if you haven't already purchased tickets to the listening party it's too late, as all 70-plus thousand seats have been filled. Although he gifting 5,000 tickets to faculty, staff and students from Atlanta HBCUs could have helped with that. However in state or not, you can feel a part of the action even by listening to the album early via Apple Music, which will be live streaming the event around the globe today at at 8 p.m. ET.