Commentary: Hillary Clinton's Bold Move on Voting Rights
Presidential candidate wants an automatic voter registration process implemented across America.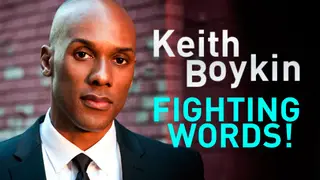 Krystal Watson grew up in Louisiana but left after high school to attend Wiley College, a historically Black college in Marshall, Texas. There she registered to vote and signed up to help other people vote as well. But when Krystal showed up at her local polling place with a Wiley College ID, she was turned away.
That's because Texas governor Rick Perry signed a law in 2011 that allows polling places to accept a concealed weapon permit for voter identification but does not accept student IDs. It's pretty clear who the Republican-controlled Texas state government wants to vote. In state after state, GOP legislatures and governors have been passing new and restrictive voting laws ever since President Obama came into office to make it harder for people of color, poor people and young people to vote.
That's the message that Democratic presidential candidate Hillary Clinton took to Texas Southern University on Thursday. In a speech to 2,000 people at the historically Black college in Houston, Clinton told Watson's story and proposed dramatic steps to make it easier for people like Krystal to vote.
Clinton's boldest proposal is a plan for universal, automatic voter registration for every citizen in every state in the union. "Everyone, every young man or young woman, should be automatically registered to vote when they turn 18 — unless they actively choose to opt out," she said.
That makes a lot of sense. The United States is one of only a few democratic nations that place the entire burden of registering to vote on individual citizens, according to a study from the Brennan Center for Justice. That helps explain why 93 percent of eligible voters are registered to vote in Canada, for example, while only 68 percent of Americans are registered.
"Making voting easier for all eligible voters should be the epitome of a nonpartisan issue," the New York Times wrote Friday. "Unfortunately, stopping people from voting has become a key part of the modern Republican playbook," they concluded.
From Texas to Wisconsin, and all parts in between, Republicans are racing to beat the clock on voting rights. They know that America's changing demographics make it harder for Republicans to win elections when young people and people of color turn up at the polls. So rather than crafting policies to appeal to these voters, Republicans have created laws to block them from voting.
Wisconsin governor Scott Walker, a likely Republican presidential candidate, recently signed a bill to limit the number of early voting days and prohibit it altogether on weekends.
Similarly in New Jersey, governor Chris Christie, another GOP presidential hopeful, vetoed a bill that would have allowed early voting in his state.
In Florida, after helping his brother win the disputed 2000 presidential election, governor Jeb Bush created a list of 48,000 Florida residents to be purged from the voting rolls. Nearly half of those purged were African-American, but only 61 people were Hispanic, in a state where Hispanics make up a significant part of the population and often vote Republican.
Even in mostly Democratic Maryland, the state's new Republican governor, Larry Hogan, vetoed a bill last month that would have restored voting rights to 40,000 former felons who had completed their sentences.
As Hillary Clinton said on Thursday, "Republicans are systematically and deliberately trying to stop millions of American citizens from voting. What part of democracy are they afraid of?"
Answer: They're afraid of Black people, young people and progressive Latinos voting in large numbers. Nearly 90 percent of Mitt Romney voters in 2012 were white, a troubling number considering the share of white voters in presidential elections is steadily declining.
That's why Republicans are passing these new laws. It's not about voter fraud. The Bush administration conducted a five-year study and found virtually no evidence of voter fraud. Subsequent studies and books have confirmed these results. It's about rigging elections.
This is America. We can't go around lecturing the world about democracy if we don't practice it here at home. We have little credibility to push for electoral reform in Africa, Latin America or the Middle East when we've made it so difficult to vote in the U.S. that 50 million of our own citizens aren't even registered.
Maybe it's a self-serving political move that Hillary Clinton is calling for 20 days of early voting nationwide and asking Congress to pass legislation to fix the damage to the Voting Rights Act done by the Supreme Court in 2013. She's also calling for online voter registration and establishing the principle that no one should ever have to wait more than 30 minutes to vote.
But Clinton's interest in these issues is not new. She co-sponsored the Count Every Vote Act, a bill in 2005 that the New York Times called "the gold standard of election reform." That bill would have made election day a federal holiday and restored voting rights to ex-felons.
Whatever the motivation for Clinton's latest proposal, she's right on the mark. Voting is the bedrock of democracy. African-Americans died for the right to vote. Any elected official who tries to block us from exercising this fundamental right doesn't deserve to hold office.
Keith Boykin is a New York Times best-selling author and former White House aide to President Clinton. He attended Harvard Law School with President Barack Obama and currently serves as a TV political commentator. He writes commentary for BET.com each week.
The opinions expressed here do not necessarily reflect those of BET Networks.
BET National News -- Keep up to date with breaking news stories from around the nation, including headlines from the hip hop and entertainment world.