Whoa, Baby!: Christina Milian And DJ Khaled's Wife, Nicole Tuck, Give Birth The Same Day To Baby No. 2
As DJ Khaled put it, "Another one!"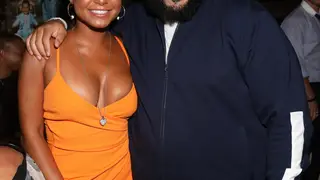 Christina has been flaunting her baby bump everywhere—with effortless style, too! But after serving maternity looks for months, the 38-year-old finally gave birth to a healthy baby boy yesterday. She shares baby Isaiah with her boyfriend, French singer-songwriter Matt Pokora. This is the second time around for mommy, Christina. She has a 9-year-old daughter, Violet Madison, from a previous relationship with The Dream.
What a beautiful addition to her blended family!
What a beautiful addition to her blended family!
DJ Khaled hasn't announced if he and Nicole welcomed a little prince or princess yesterday, but either way we know after the birth of his son, Asahd, the release of Khaled's 11th studio album, Father of Asahd , and the tot's endorsements that followed, his new little one is in for a wild ride!
DJ Khaled posted several photos in the waiting area of the hospital to show his excitement, and when his and Nicole's blessing arrived, he shared this: "THANK YOU ALLAH ! THANK YOU MY QUEEN NICOLE ! BLESS UP DR JIN ! 🤲🏽 ANOTHER ONE !!!!!!!!!!!!!!!!!!!!"
Whoa, baby! What a weekend! Congratulations to both families.