Grandmaster Flash And Roxanne Shanté Visit New York's City Hall To Share Hip Hop 50 Plans
The iconic music genre will celebrate 50 years in 2023!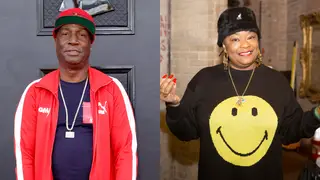 Grandmaster Flash and Roxanne Shanté recently visited New York City's City Hall to announce that there will be upcoming celebrations for Hip Hop's 50th anniversary in 2023. Slick Rick and Master Gee were also in attendance for the announcement as well as the city's Mayor Eric Adams.
"Today, hip hop legends came together at City Hall to announce @uhhmuseum and NYC's plan to celebrate hip hop's 50th anniversary in 2023," Flash wrote on Instagram. "It's going to be big – I can't wait to get started."
Although the events for Hip Hop's 50th anniversary have not yet been shared, Shanté confirmed that there would be 50 separate events over 50 days.
"When they first approached me and told me, 'Listen, what we're going to do is we are going to do 50 events, 50 days celebrating 50 years of Hip Hop,' I was like, 'That's a lot of 50s,' the rap legend said.
She continued, "But I am honored to be able to participate knowing that seeing the spin that has been taken with New York City and knowing that we're getting ready to celebrate something like Hip Hop here in New York City, where it was. A lot of people want to debate whether it was created here or not, but where we have perfected it. Don't you agree?"
"First time in New York City history, we have a Hip Hop mayor," Adams said during a press conference at the time alongside Def Jam co-founder Russell Simmons. "We have the power now where we can use the experience of these men and women here to reform how we use music to educate our children."