Cardi B, Chance The Rapper, John Legend Sound The Alarm After Trump Fails To Denounce White Supremacy
A number of hip hop luminaries took to social media to stress the importance of the approaching presidential election to save America.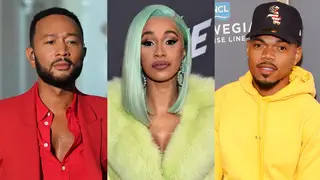 President Donald Trump and Democratic nominee Joe Biden faced off at the first presidential debate in Cleveland, Ohio last night (September 29). Moderated by Fox News anchor Chris Wallace, the 90-minute debate was full of tension and covered a number of issues including the administration's failed response to COVID-19, the economy, racism, healthcare and climate change. The debate stage turned into a chaotic war of words with Trump repeatedly interrupting and talking over Biden, leading to the two trading numerous verbal jabs as the night went on.  
Most notable to Black voters, Trump failed to denounce white supremacy when directly asked to do so by Wallace, sparking a tidal wave of social media reactions. The right-wing hate group Proud Boys, who Trump told to "stand back and stand by," quickly posted a new logo including Trump's words "Stand back. Stand by."

A number of hip hop luminaries took to their platforms to urge people to vote Trump out of office on November 3. Many stressed the importance of the approaching presidential election on November 3 as it relates to the future of America.

"The entire country has to make a decision as to whether it will continue to downplay the fact that our president is an openly racist White Supremacist and what that means for its citizens, or….VOTE HIM OUT," Chance the Rapper tweeted out. 

John Legend expressed the frustration that many have been feeling since Trump assumed office, writing, "We can't put ourselves through another 4 years of this walking dumpster fire."

Over on Instagram, Cardi B shared numerous clips from the debate while voicing her thoughts throughout the evening. 

Lizzo also took to the social platform where she shared a powerful 5-minute video detailing her experience voting as a Black woman. The Grammy-winning songstress specifically addressed young people indecisive or disenfranchised about voting as well as those who think their vote doesn't matter.

"Yes, to a degree, we are powerless, and, yes, it feels f***ing powerless. But god damn it. If these older generations believe in their power and take their a** to the polls and use that power no matter what, so should we," she stressed. "Because this country is still going whether we want it to or not. The way this country does politics is still going on whether we like the way they do politics or not. We can't sit out. I'm not telling who to vote for. I'm not telling you what to be."

Lizzo continued, "Regardless if you watched [the debate] or not, this election is happening with or without you. All I ask is for you to be present."

While some supporters say the Proud Boys are not an "alt-right" group of white supremacists, they have been associated with inciting violence at extremists gatherings like the Charlottesville "Unite the Right" rally," according to the Southern Poverty Law Center.

"Their disavowals of bigotry are belied by their actions: rank-and-file Proud Boys and leaders regularly spout white nationalist memes and maintain affiliations with known extremists. They are known for anti-Muslim and misogynistic rhetoric," the SPLC says.

Trump's comment is of particular concern given he refused to commit to a peaceful transition of power if he loses the presidential election when asked by a reporter last Wednesday.

"Well, we're going to have to see what happens," Trump said. Trump has also previously refused to say whether he would accept the election results and has joked about staying in office past two terms.

See what other artists, such as Jermaine Dupri, Wale, and Kelly Rowland  had to say about the first presidential debate below