The Cast Of 'Killing It' Discuss The Importance Of Health Benefits For Actors And The Representation For Season Two
Craig Robinson also recalls the time he was fired and shares why.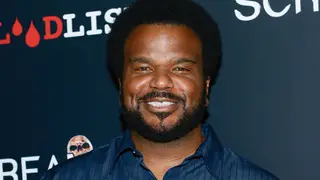 Craig Robinson continues to 'kill it' as he gears up for the second season of his Peacock series, Killing It, which is a comedy about "class, capitalism, and one man's quest to achieve the American Dream." In addition to Robinson, the series also stars Claudia O'Doherty, and Rell Battle with a slew of fun guest stars who will be appearing throughout the season.
In an interview with BET.com, Robinson, O'Doherty, and Battle discuss the importance of actors having health benefits, which celebrities they would live on a farm with, and whether employees and their bosses should be friends.
BET.com: In the series, Craig lives on a farm with two other people — if you lived on a farm, what four celebrities would you want to have live with you?
O'Doherty: I would choose Lenny Kravitz and Martha Stewart.
Robinson: I'm going to go with Drake and Taraji P. Henson.
Battle: First off, I ain't living on no farm (laughs) but if I had to, I would choose Tom Brady, LeBron James, Chris Messi, and Serena Williams. I just want to learn from greatness.
BET.com: Jillian struggles with boundaries, befriending her employees while being a boss. Can bosses and employees be friends or should those lines never be crossed?
Battle: It depends on the job, man – talent has managers and you have to sustain those relationships. While people can take advantage of the boundary, you get more work when people like you. Having an affinity for a person makes you work harder than having a fear for them.
O'Doherty: This is such a great question – I don't know if they should be friends, but then again, Craig is my boss for the show, so yes, you should be friends with your boss (laughs).
BET.com: Killing It represents the ASL community with Craig's ex, Camille. In what other ways will the series show representation this season?
O'Doherty: We definitely make sure to show representation this season with the Swamp Mafias.
Robinson: This is a good question – haven't heard these questions all day (laughs). It's a diverse cast with so many communities represented from the LGBTQ community, ASL representation, LatinX representation, and alligators (laughs) – there's a lot this season.
BET.com: What's a role in your career that you felt you "killed it" and in what way?
Robinson: I would have to say "Rapture-Palooza," where I play the Antichrist, and I killed it because it was a silly movie, but I had free range with a lot of improv that made it into the movie so I would choose that one.
BET.com: Health benefits are discussed in one of the episodes and are a huge issue in America. Many actors have passed away due to not having health benefits despite finding success in Hollywood. How important is it for an actor to receive health benefits?
Robinson: It's very important – we all need it, honestly.
O'Doherty: There should be free global health care.
Battle: It's extremely important – people don't understand how this is a business and not just a fun thing people do. It's a cool job, but people don't associate this with every other workforce. We have benefit plans, a union, and we do receive a pension but people don't see it that way outside of our world. Many actors struggle their first year and are straight-up homeless whether they see it or not. If you sleep on your girlfriend's couch and don't want to be with her anymore, you're homeless. People see Tom Hanks and Angela Bassett, but they don't see Tom, Mike, and Kelly, whose hustling check to check working a low-paying job while trying to get to these auditions. The world is starting to wake up to the fact that this profession is cool, but we must also survive.
BET.com: Firing people can be a tough task and is explored in the season — have you ever been fired before and what was the reason?
Robinson: I worked at the American Vision Center, and I got fired because I kept breaking people's glasses – they had this hot stone where you put the arm of the glasses on to bend to match the person's measurements, but I kept melting them (laughs).
You can stream all eight episodes of the second season on Peacock now. 
[Please note this interview was completed before the strike].
---
*This interview has been edited for length and clarity
Ty Cole is a New York-based entertainment reporter and writer for BET.com who covers all things pop culture, entertainment, and lifestyle. Follow his latest musings on Twitter @IamTyCole.