Diamond From 'Diamond and Silk' Cause Of Death Revealed
Diamond From 'Diamond and Silk' Cause Of Death Revealed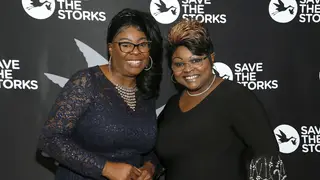 Lynette Hardaway, one-half of the Trump-supporting sisters Diamond and Silk, died on Jan. 8. After much speculation, the 51-year-old's cause of death has been revealed.
According to the Associated Press, a death certificate listed her cause of death as heart disease due to chronic high blood pressure. However, there were reports that she was hospitalized in November due to COVID, which her sister Rochelle Hardaway, also known as Silk, denied. A Nov. 26 tweet from Diamond and Silk's official Twitter account read, "Anyone who believes in the power of prayer please pray for Diamond."
At a Saturday (Jan. 21) memorial service for Diamond, Silk was vague but appeared to blame her sister's death on the vaccine. She said, "Instead of asking if Americans are vaxxed or unvaxxed, the real question to ask is: Are Americans being poisoned?"
She also stated, "Don't you dare call me a conspiracy theorist, because I saw it happen. I saw how it happened. I was there when it happened, and it happened suddenly. I want America to wake up and pay attention. Something ain't right. It's time to investigate what's really going on here, and give some answers to why people are falling dead suddenly."
It's unclear when or if Lynette Hardaway received a coronavirus vaccine.
For many, it was a confusing speech, Diamond and Silk have been labeled anti-vaxxers, which may not be the case. Nonetheless, they spread misinformation about coronavirus, implied COVID deaths were inflated to make Trump "look bad," and, in April 2020, the duo was temporarily suspended from Twitter due to violating their COVID-19 misinformation policy. Later that month, they were no longer with Fox News. Diamond once said she had a "problem receiving any vaccine from any entity."
A fundraiser was launched shortly after Lynette Hardaway's passing, which has currently raised over $115,000.