Justine Lindsay Makes History As First Openly Transgender Cheerleader In NFL
"I will continue to inspire and help my African American beautiful trans sisters until my last breath," she said in an Instagram post.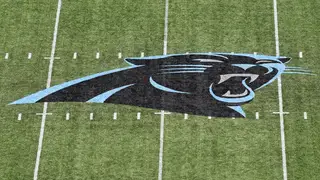 The NFL is marking a historic event even while players are in the off-season.
In March, Justine Lindsay became the first openly transgender cheerleader in the league. According to NPR, Lindsay, 29, made the announcement via Instagram.
She joins the Carolina Panthers TopCats Cheerleading squad for the upcoming 2022-2023 season.
"Cats Out the Bag you are looking at the newest member of the Carolina Panthers TopCats Cheerleader's @topcats as the first Transgender female," Lindsay wrote. "I would like to thank the beautiful and talented dancers who supported me along the way ... This is a moment I will never forget and I cannot wait to show you all what this girl has to bring. Thank you @topcats a dream come true."
Lindsay, who recently spoke with BuzzFeed News about her historic hiring, said, "I think more people need to see this," she said. "It's not because I want recognition. It's just to shed light on what's going on in the world."
As June marks the celebration of Pride Month, her voice is a prominent one on the road to full equality for all people.
TopCats director Chandalae Lanouette and the Panthers said Lindsay's skills were what locked her a spot on the team.
"Members of the TopCats are hired based on their qualifications and abilities," the Panthers said in a statement to NPR. "Our organization is an equal opportunity employer and does not discriminate because of age, race, religion, color, disability, sex, sexual orientation, or national origin. We wish all the TopCats, including Justine Lindsay, an incredible season."
Lindsay's objective became more evident on Monday (June 4), as she took to Instagram to thank everyone – even her haters, before proceeding to declare her goal to be a voice for Black transgender people.
She will continue "paving the way for those under me who are scared and afraid to take that step. I will continue to inspire and help my African American beautiful trans sisters until my last breath."